Software Consulting for BPM and GRC
Digitalization and process management suites are intelligent integration systems, each following its specific philosophy and methodology. We guide you to the best possible way of working with your BIC Platform in the context of your digital transformation. With us, you achieve not only a cost-optimized but also a value-optimized solution for those who matter - your stakeholders.
Software consulting for BIC Platform
As the manufacturer of BIC Platform we are of course at your disposal with know-how for our entire product range. This includes the introduction and rollout of our products as well as the configuration and customizing of the software to your needs.
Due to our unique experience in the market, we set great value upon advising you on the efficient and sensible use of BIC Platform. With hundreds of finalized and ongoing long-term projects in companies of all sizes and in all industries, we draw on a considerable wealth of experience. We know the screws to turn that make relevant improvements for you - because often the little changes lead to greater efficiency and acceptance.
We gladly combine our product consulting with our digitalization and process management consulting. In this way, we can offer you integrated overall consulting for all your needs.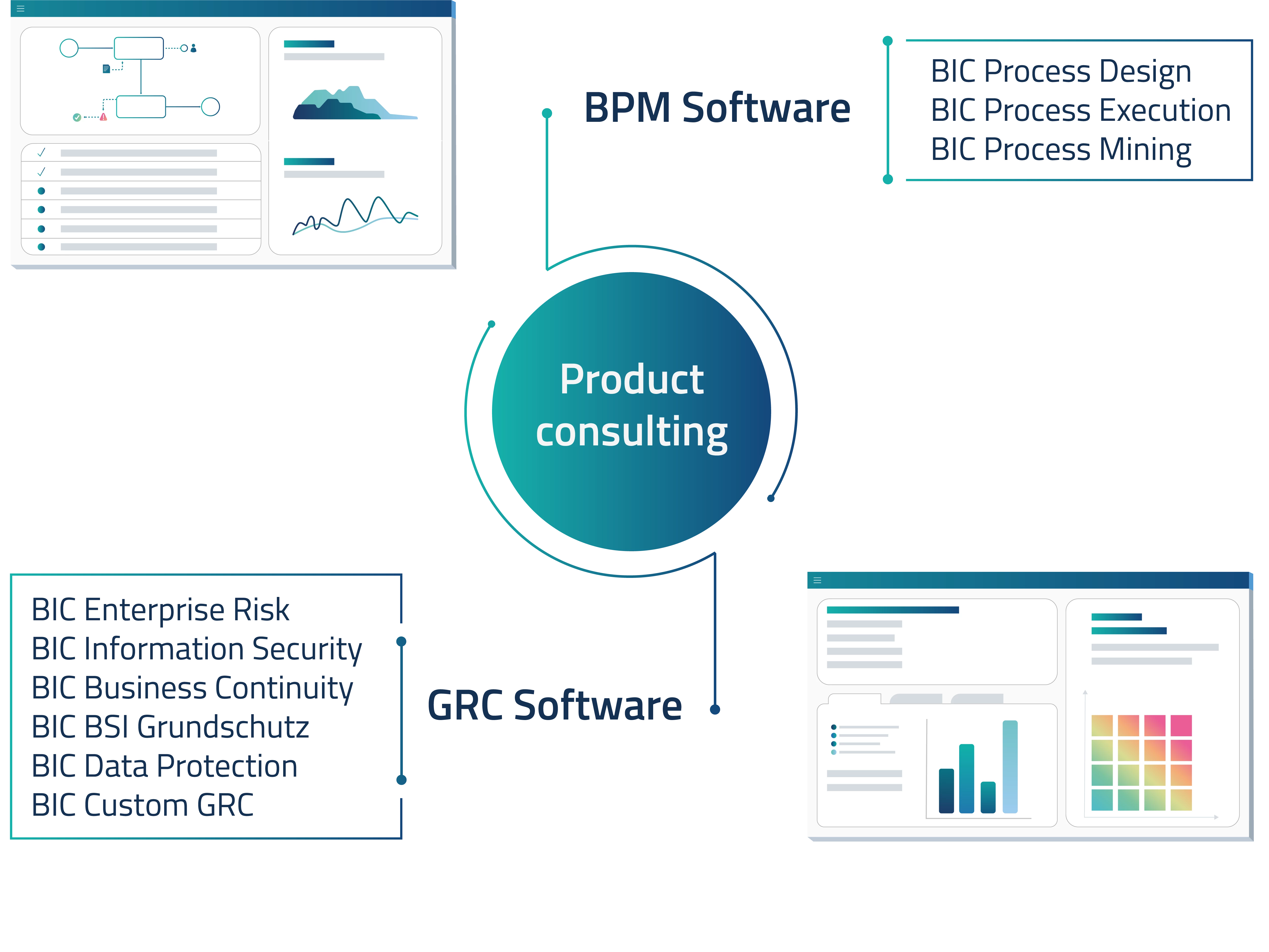 Consulting for third-party software
Digitalization and process management are always in the context of software. The interaction of multiple software tools is particularly relevant here, in combination providing the corresponding added value, for example by enabling the digitization of a complete end-to-end process.
As one of the leading consulting firms in the field of digitalization and process management, we have been advising our customers in such situations for almost 20 years. Thanks to the experience of hundreds of projects and corresponding partnerships with other software manufacturers, as well as targeted qualifications of our consultants, we are able to provide professional and product-specific advice on a wide range of process management and digitalization software. This includes almost all process modeling platforms of other manufacturers, but also consulting around the connection of process-relevant modules and components of ERP systems such as SAP Solution Manager or document and knowledge management systems such as Microsoft Sharepoint or Atlassian Confluence.

New: Cooperation with UiPath
for the intelligent use of RPA technologies to automate manual tasks

New: Interface with the SAP Solution Manager
for an optimal integration of business and IT views in your organization
Our product consulting for your specialized use case
The same product requires very different procedures and settings depending on the specific application case. This is particularly true if you combine several use cases or integrate them with each other. Rely on our extensive experience.
Benefit from the advantages of the of the GBTEC product consulting
Analysis, coaching, specification, configuration, customizing, implementation, testing, rollout. All this together implemented pragmatically and goal-oriented with you - that is at the center of our consultants' work.
These consulting customers already lay the right focus with us
Do you have any questions?
Do you have any questions about our services?
Our consultants will gladly assist you and look forward to your request.