Ultimate guide to easy process automation with no-code and low-code workflows
Manual processes are still an integral part of everyday work in many companies: submitting vacation requests, processing incoming invoices, preparing employee onboarding, checking order requests - a large proportion of administrative tasks are still performed manually. The result: an enormous waste of time and money and a high error rate during processing. This is exactly where process automation comes in: paper-based activities are transformed into digital workflows and manual, repetitive tasks are significantly accelerated by appropriate software and freed from human labor.
In this whitepaper, you get a detailed insight into how process automation can benefit your day-to-day business. But don't worry - process automation doesn't have to be expensive or complicated: Due to the help of so-called no-code and low-code workflows, you can digitize and automate your processes quickly, cost-effectively and without extensive IT knowledge. We show you what this new technology is all about and what exactly the difference is between no-code and low-code workflows.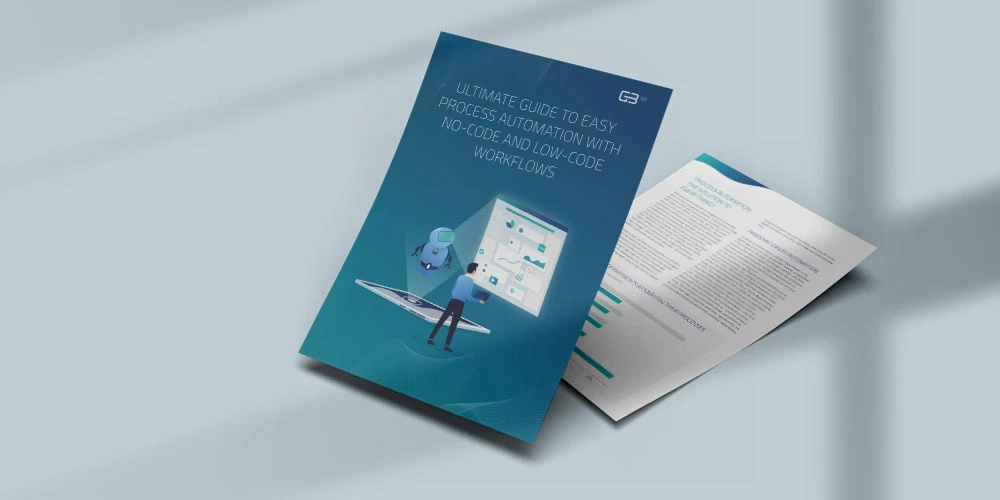 In addition, in this whitepaper we demonstrate how you can recognize that you are ready to automate your processes and how to get started with process automation with the following step-by-step guide:
Identify opportunities for automation
Collect information about the manual process
Choose the right automation tool
Define and model the optimal (automated) process
Test the process automation and go live
Monitor and measure KPIs
Maintain automation activities
Do you want to get started right away and create digital workflows with just a few clicks to save valuable time? We also show you how to automate your processes with process templates in no time at all - regardless of your industry. Simply select the right template, adapt it to your requirements, and you are ready to automate your first processes. No matter how complex your process is and to which department it belongs: (almost) every process can be automated. Get this and more information in our free whitepaper.
Do you have any questions?
Do you have any questions about our products or services?
Our experts will gladly assist you and look forward to your request.