Process-oriented risk management
with BIC Process Control
Ensure more security in your company and take advantage of automated risk management to efficiently manage your risks and controls. With BIC Process Control, you merge your process and risk management to create a single view of your processes and all associated risks and controls.
Manage corporate risks in a process-oriented manner
Responsible governance, risk and compliance management (GRC) is one of the key challenges for companies. Therefore, it is essential for organizations to consider the corresponding risks and controls in all operational activities such as process execution. With a process-oriented approach, you manage your business risks and controls directly on your processes and thus optimally combine your process and GRC management to increase the efficiency of your processes as well as your compliance. As an add-on product to BIC Process Design, BIC Process Control (formerly BIC GRC) supports companies in not only having an internal control system, but also in recording and evaluating risks and controls close to their processes. Use the process-driven approach and combine your business process management (BPM) and risk management across departments in a central system landscape to meet all regulations, comply with guidelines and improve your business processes at the same time. In this way, you increase productivity in your company, provide more transparency and dissolve data silos.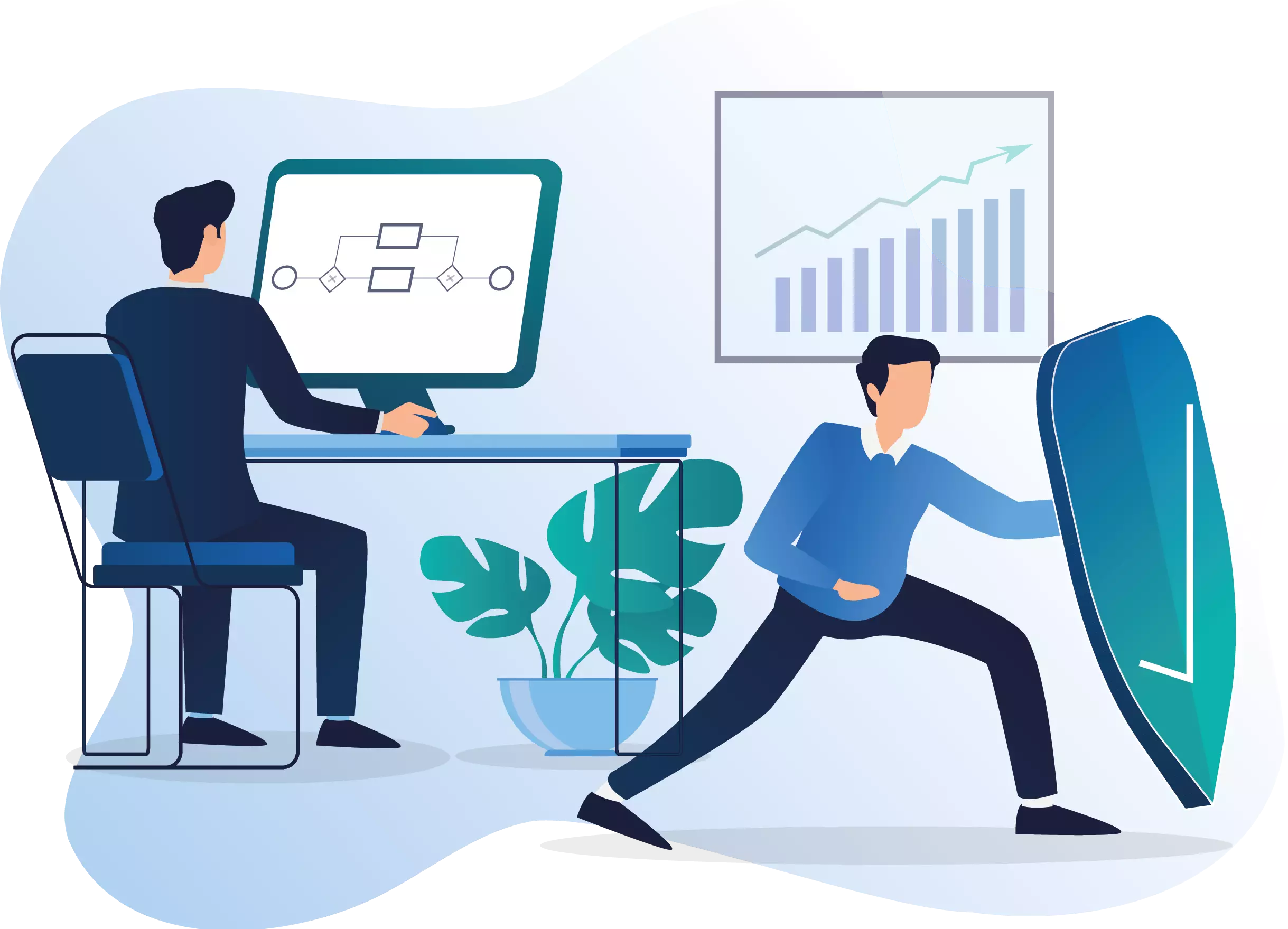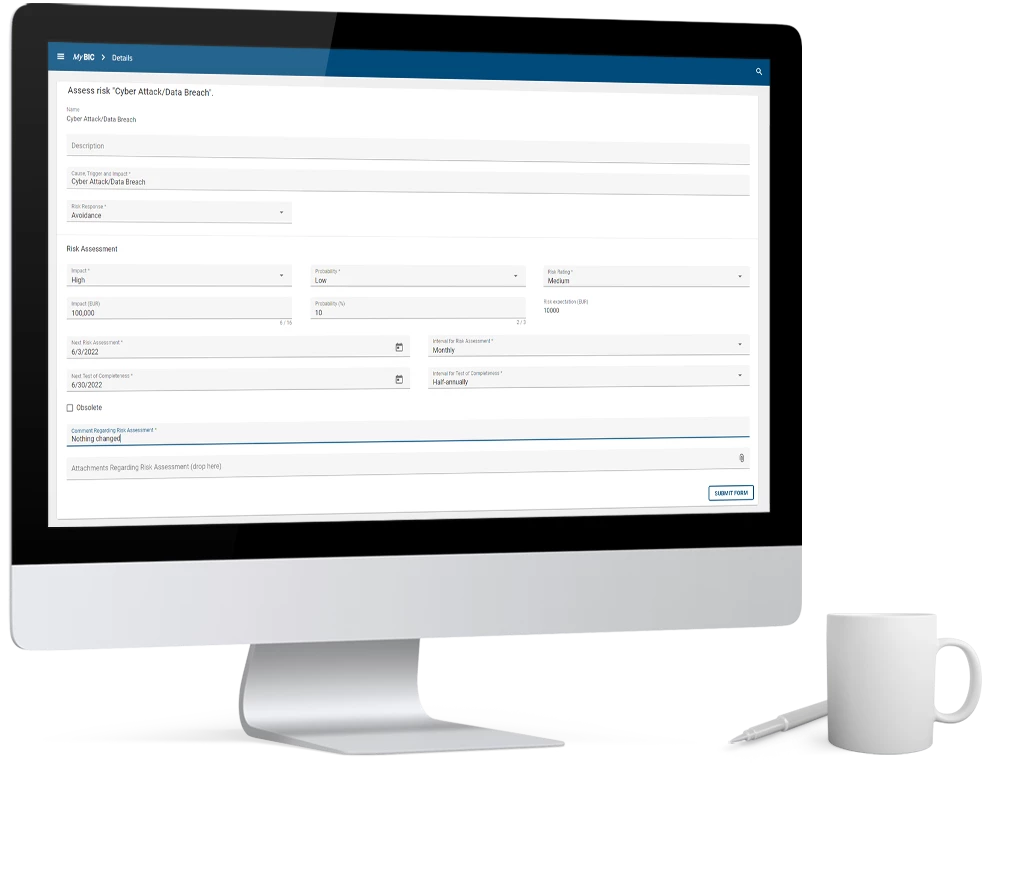 Efficient risk management through automated workflows
BIC Process Control offers a range of digital forms and automated workflows that make compliance with internal policies and regulatory requirements particularly easy and efficient. Activities such as
Risk and control mapping
Completeness check
Test of Design
Test of Effectiveness
Control implementation and
Measures Management
are implemented in BIC Process Control via digital and workflow-supported data capture. Save yourself the trouble of consolidating endless Excel spreadsheets and rely instead on a digitalized and centralized compliance management.
Reminder emails and automatic notifications remind you of open or pending tasks and ensure that all activities are carried out on time and due dates are met. With these workflow-supported processes and clearly defined responsibilities, you ensure more transparency, fewer redundancies and a lower error rate.
Continuous monitoring of your risk situation in the powerful cockpit
With BIC Process Control, you can comprehensively measure and monitor your risks and controls. In the freely definable cockpit, you can see all current activities and the current risk situation of your company at a glance. This allows you to make quick and well-founded decisions to minimize risks if necessary. In addition, numerous reports such as risk control matrices and heat maps with drill-down function are available to you, which function as proof of secure risk management in audits or internal audits. Thanks to the integrated task management, the current processing status can be viewed transparently at any time. Open or overdue tasks can be started or delegated with just one mouse click. Any changes are stored in the integrated audit trail in an audit-proof manner. In this way, you create the optimal basis for more security and resilience in your company.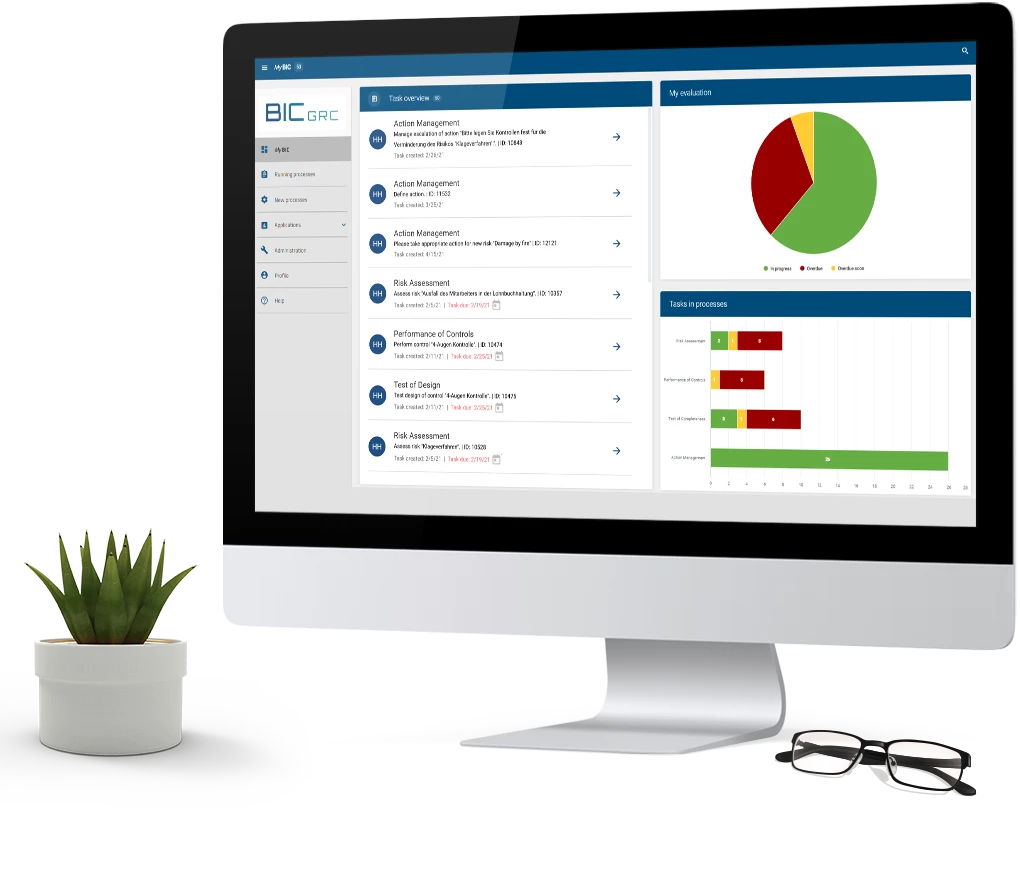 Digital risk management for more security in your company
BIC Process Control maps the complete ICS process and takes care of task allocation and navigation for you. Benefit from the advantages of digital, process-oriented risk management and master the management of your corporate risks safely and efficiently.
Automated risk management: Manage your corporate risks and controls with workflow-based software and predefined, easily customizable forms.
Link to BIC Process Design: All risks and controls that you have already created in your modelled processes in BIC Process Design are automatically transferred to BIC Process Control.
Single Source of Truth: Merge your process management with your risk management and create a fully integrated, centralized view of your processes and risks.
Easy administration: Complete your tasks conveniently and clearly in digital forms - even on the go from your smartphone - and save yourself the hassle of maintaining Excel lists.
Automatic notifications: Thanks to automatic reminder emails and notifications, you will no longer miss any deadlines and will be well informed about every process relevant to you.
Do you have any questions?
Do you have any questions about our products or services?
Our experts will gladly assist you and look forward to your request.