University of Applied Sciences Ravensburg-Weingarten: Process-oriented quality management with BIC Platform

The University of Applied Sciences Ravensburg-Weingarten has experienced rapid growth in recent years, and it wanted to put this on a secure footing for the long term with a new quality management. To be able to analyze, improve and publish its processes in the areas of study and teaching as well as administration, a process management system was set up at the same time.
Award-winning processes,
motivated employees
The University of Applied Sciences Ravensburg-Weingarten models its business processes in BIC Platform according to a standardized procedure (BPMN 2.0), optimizes and publishes them, and executes them partially automatically. The high level of quality assurance and the noticeable increase in employee motivation have prompted the gfo (Gesellschaft für Organisation) to award an exemplary implementation of process-oriented quality management for the first time to a project in the higher education sector: The University and GBTEC won first place in the Process Solution Awards (PSA) in the BPM category "Process-oriented solutions" in 2016.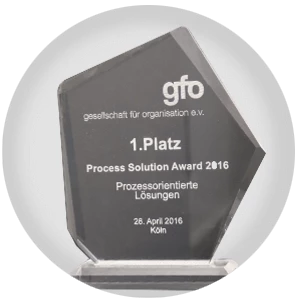 First prize
Process Solution Award 2016 of the gfo
for an outstandingly process-oriented solution
University of Applied Sciences Ravensburg-Weingarten
Headquarters: Weingarten, Germany
Employees and students: 4,000+
Sector: Education & Universities
BIC Platform module in use:
BIC Process Design
By linking quality management and business process management, the University of Applied Sciences Ravensburg-Weingarten and GBTEC have created a platform for all employees and students that optimizes organization and workflows.
Over 4,000 students, faculty and staff jointly
use BIC Platform
From antiquated as-is to
standardized target processes
Measurably reduced processing
time of processes
Manual mass workflows
reduced to a minimum
Combining fast growth and guaranteed quality
The University of Applied Sciences Ravensburg-Weingarten, like all fast-growing universities, faced extensive structural challenges and strong competitive pressure at the national and international level. The situation was intensified by various factors, such as the challenges posed by the Bologna Process and limited financial resources in the face of increasing demands. In this context, the university strived for efficiency and professionalism in the areas of study and teaching as well as research and administration. In addition to the quantitative aspects, it increasingly turned to the quality and efficiency of existing structures and introduced a new quality management (QM) system for this purpose. Since many processes are already predefined by legislation (LHG) and the accreditation rules for universities, it has simultaneously addressed the topic of process management. To be able to analyze its processes in a meaningful way, improve them significantly, and publish them to all stakeholders, it decided to introduce a professional business process management system.
The focus on processes offers more than just quality management
With the introduction of the BPM Suite BIC Platform, the first task was to visually represent the central processes at the university. By modeling, the university recorded existing processes and redefined target processes. The modelers used a standardized procedure (BPMN 2.0) to define structures, rules and roles. For the faculties and administrative areas, the process-oriented QM results in several advantages at once:
modeled processes ensure the quality of activities
the continuous improvement process for optimizing processes is stringently followed in BIC Platform
the automation of some processes makes it possible to check the efficiency and effectiveness of activities that were previously carried out manually
A key element in creating acceptance was clear support for the project from university management and all stakeholders. Target group events, separate meetings and various communication measures helped to accustom staff and students to the new QM and process management on an ongoing basis.
Standardized processes for higher quality and satisfied users
BIC Platform is available to all employees and students as a transparent information portal. The university's processes are uniformly standardized and follow the same structure, so that they can be easily viewed by all those involved. All members of the university can access the processes in the portal and are thus supported in acting in a process-compliant and effective manner. The introduction of BIC Platform has resulted in faster throughput of processes (e.g., reduction in the turnaround time for applications) and has promoted transparency and control of the study process. Employees have been relieved of redundant activities, as process management has reduced the amount of manual mass processing. Standardization has reduced the proportion of mishandling and errors, further enhancing quality and employee motivation.
As a replacement for isolated applications and system breaks, BIC Platform has reduced training times and implementation efforts. In terms of quality management, the university's central quality management working group uses the tool's feedback and resubmission functions to regularly review processes in terms of their effectiveness and efficiency.
About the University of Applied Sciences Ravensburg-Weingarten
RWU is a university of applied sciences in one of the strongest economic regions in Europe. Courses are offered in fields ranging from engineering, IT, and business to social studies and healthcare. The degree programs are characterized by a high degree of practical, real-world orientation and close cooperation between all involved. On RWU's modern campus, students can test and expand their potential and shape the future through interdisciplinary dialogue.
Around 3,800 young people from all over the world study at RWU. Partner universities on every continent offer valuable experience abroad. Studying at RWU is more than just acquiring knowledge: This is where talents are discovered and fostered, where personalities bloom, and where life-long friendships start.
Questions about
our references?
We look forward to your request and would be happy to help you.
Your personal contact person is:

Benedikt Siebrecht
sales@gbtec.com
+49 234 97645 -110