Decisions made easy with DMN (Decision Model and Notation)
Making a well-founded decision is not always easy, especially in day-to-day business life with numerous procedures and models. To simplify decision-making, the introduction of clear rules can help. But how do you map complex choices so that they are clear for everyone? The Object Management Group (OMG) has addressed this issue and developed a new method that enables clear decision-making - the Decision Model and Notation (DMN).
What is DMN and how does it help my organization?
Models in companies are complex, and underlying decision-making is correspondingly even more complex. Which is the right one and how can all relevant factors be taken into account in the decision-making process? To ensure that the right choices are made, especially in everyday work, and that these decisions are also comprehensible and reproducible by all others, it is central to introduce clear rules and to document them. A simple representation of decisions with common modeling notations can of course support here. However, the more complex the business rules, the more confusing the model might become. It is therefore advisable to use a method that is precisely designed to represent complex decisions clearly within models and at the same time to take all relevant decision rules into account: the OMG's Decision Model and Notation (DMN) is an approach that creates a strong impact for common decisions for your management and decision makers but also your entire business knowledge.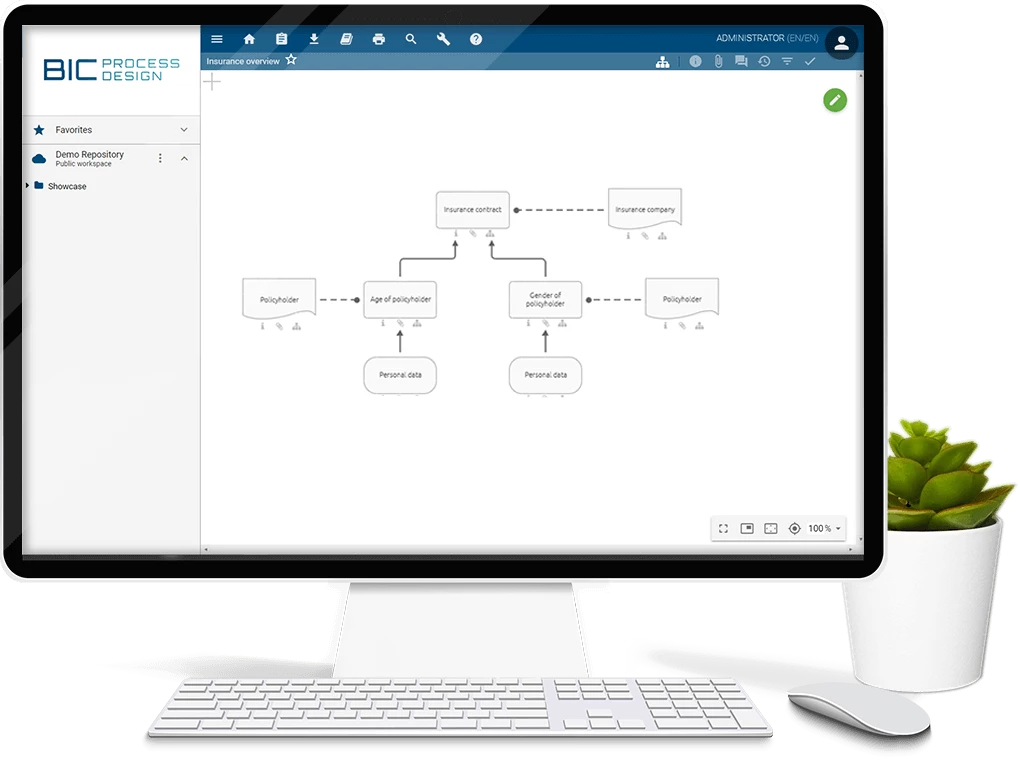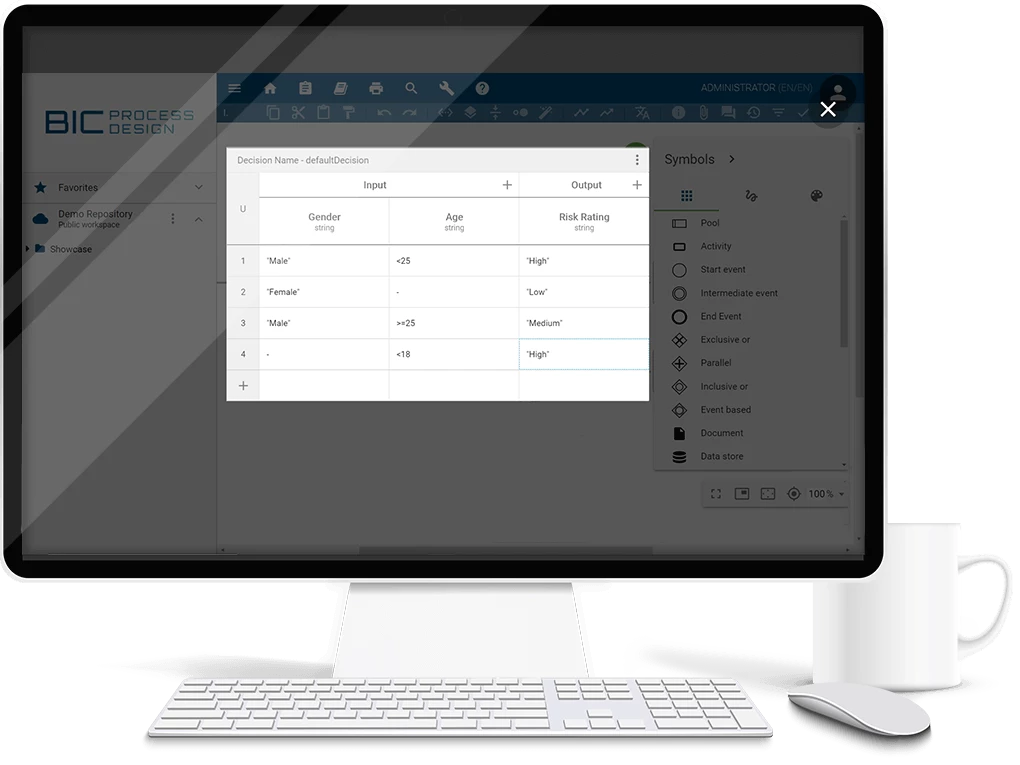 Finally bringing clarity to your decision-
making with DMN
The central goal of decision modeling is to map models with complex choices in a simple and comprehensible way. Thanks to this approach, employees and management are enabled to understand decisions that have been made, thus creating more transparency and clarity by using decision models and the resulting analysis. Decisions with DMN are made on the basis of Decision Requirement Diagrams and Decision Tables. Decision rules are represented graphically within a Decision Requirement Diagram. The Decision Table acts as a supplement and enables a more detailed analysis of decision-making in the DMN model. The use of these models provides your employees and especially your decision makers the possibility to reproduce decisions across departments, to improve communication to your customers and to further expand your analytics.
The perfect symbiosis: DMN and the BIC Platform
You want to finally tackle decision-making in your company? No problem with the BIC Platform! In our web-based modeling software BIC Process Design, the DMN is available as a stand-alone notation, making decision modeling and analysis easy. On its own, the decision models provide a wide range of functions to support the decision logic. If you want to further optimize and extend this, a combination of DMN and BPMN 2.0 models is useful.
Less complex decisions can be modeled as gateways and activities within BPMN 2.0 - but if the decisions become more complex, this approach reaches its limits and an addition of DMN is advisable. Decisions that are difficult to understand are simplified and decision tables are effortlessly integrated within a BPMN diagram.

The pure decision modeling is not enough for you and you finally want to take the step towards automation? By adding the BIC Process Execution software, you pave the way to complete digitization of your business and decision models. The decision tables created in BIC Process Design serve as the basis for this. In our powerful zero-code software BIC Process Execution, these rules and decisions are then transferred from modeling to automation and turned into executable processes at the push of a button. You can then easily enter decision-relevant criteria in digital forms and the tool will automatically show you the right decision based on the stored rules and your models. Automated decision-making based on DMN will fundamentally simplify the models in your organization, ensure more compliance and a lower error rate, provide an effective output from your analytics and an increased customer focus. Take your models and IT to the next level and get started today with the right software by your side!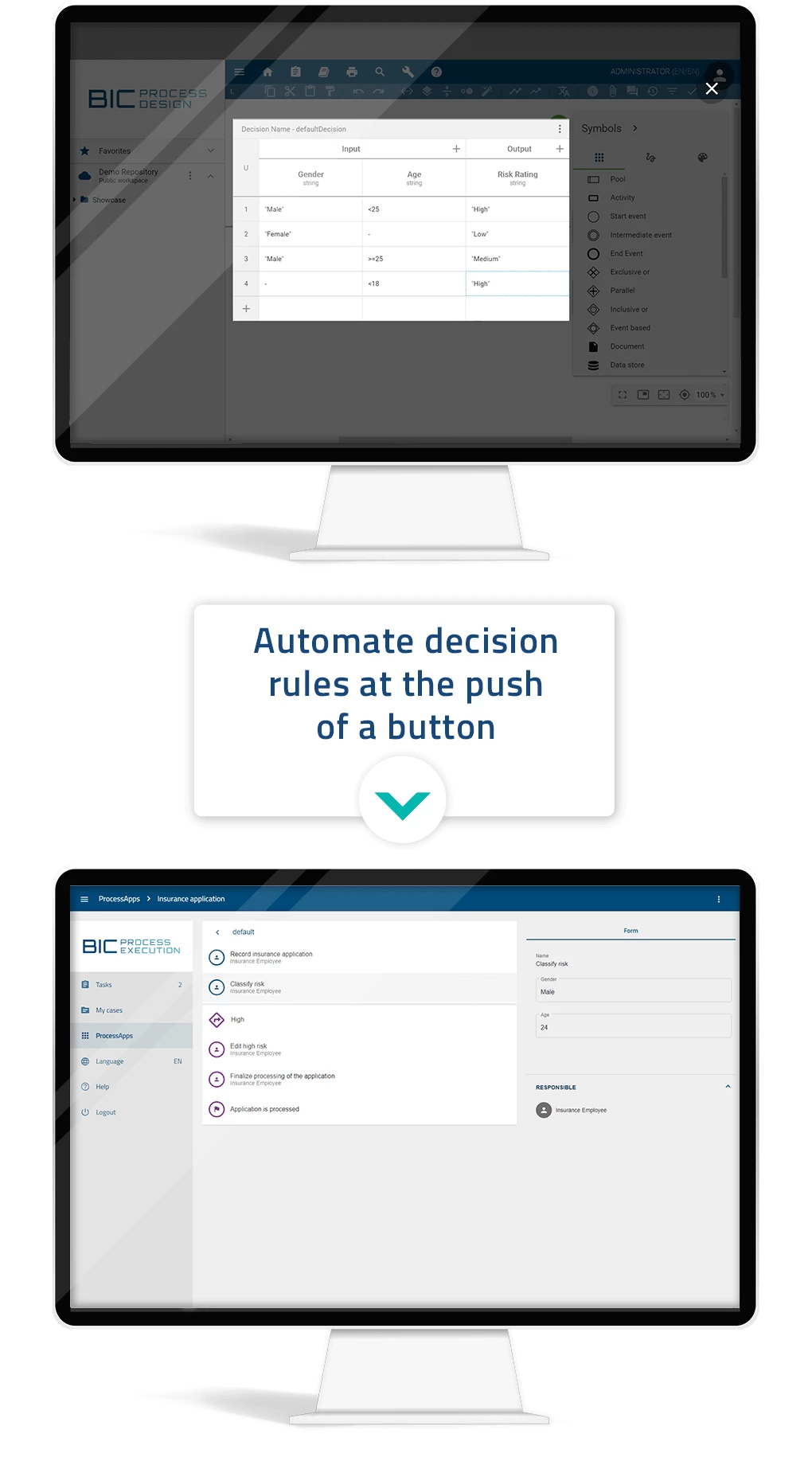 Learn more about comprehensive decision making with BIC Platform
Do you want to map your business rules in DMN today and link your process modeling and automation with it? Decide for the extensive possibilities with the BIC Platform: Whether process modeling with BIC Process Design or the simple execution of your business models thanks to BIC Process Execution - with BIC Platform you have the right software at your side to edit your business rules in no time, to map them intuitively in models like DMN and BPMN and to automate them at the push of a button.
Process Modeling with
BIC Process Design
Our innovative BPM tool BIC Process Design ensures more transpareny and smooth work processes. Find out how easy it can be to model your processes, give access to them company-wide and jointly optimize workflows.
Process Automation with
BIC Process Execution
Get even more out of your processes with our best-in-class zero code technology and transform your business processes directly into executable processes without any programming effort. Learn more about the advantages of our groundbreaking Automation Software.
We have the information you need to unleash your full process potential. Take a look at our resources and start improving your business performance today.
Do you have any questions?
Do you have any questions about our products or services?
Our experts will gladly assist you and look forward to your request.