Process Mining
The digital transformation and quickly evolving customer expectations are forcing organizations to constantly adjust their business processes. As a result, compliance rules are often violated and well-intended workarounds to address exceptions become the norm. Process improvements purely based on the documented process models are, consequently, hard to achieve.
What is Process Mining and how does it work?
Process mining is a relatively young discipline, and in simplified terms, a data-based process management approach. Despite its young age, the associated benefits and potentials are widely accepted throughout all sectors and by businesses of all sizes. Especially, since the Process Mining Manifesto, published by leading academic experts of this field in 2011, global awareness for this young process-oriented discipline is on a constant rise. Organizations that have already implemented process mining tools are reporting an understanding of their process landscape like never seen before. But how does it achieve such great results?
Today's organizations rely on various information systems to support their business operations. Whether it is an ERP system to track production processes or a CRM system to coordinate sales and customer service processes. Nowadays, there is hardly any business process that is not supported by at least one IT system. These systems are constantly collecting large amounts of data, for example, every time a purchase order is made, or a service is delivered - digital footprints of the business process.
In a typical organization this leads to thousands of events being recorded every single day. Priceless information, just waiting to be used. And this is exactly where process mining comes into play. It utilizes the data collected by IT systems, the so-called event logs, for in-depth process analysis. Unlike more traditional business intelligence approaches, it not only reveals pain points, but also allows the user to dig into "why" something went wrong. With the help of process mining tools, organizations can move away from a "confidence based" approach of Business Process Management (BPM) and progress towards a "data-driven" approach, basing their change actions on real-time data.
The four major Process Mining Techniques
Process mining allows organizations to monitor, analyze and improve their business processes with tremendous precision. The actual process execution gets revealed with ease, making it even easier to keep track of crucial KPIs. Its different techniques are centered around the event log and can be grouped into four main areas:
Firstly, there is the automated process discovery. It uses event data, as described above, to autonomously design a process model. This so-called reverse-engineering of "as-is" models helps to establish a fact-based understanding of the process workflow and is the foundation for any further analysis. On top of that, the new process model can also illustrate the underlying social network, showing all resources involved in the different process steps.
The second technique is called conformance checking. It uses the model created by the process discovery capability and checks its compliance with a given set of rules. The goal is to analyze whether the process recorded in the event log adheres to a prescribed behavior, for example, a given process model or a set of compliance rules. A common example for such a compliance rule is the "four-eyes-principle" that is often used in procurement processes.
Thirdly, process mining software allows organizations to easily compare two or more versions of one business process - the variant analysis. For doing this, the event log is often divided into two main sets of variants, one focusing on those cases with a positive outcome while the other is depicting cases with an unfavorable output. This enables organizations to analyze the differences of the workflows in detail and to derive data-driven improvement ideas.
Lastly, there is the performance mining capability. This technique focuses on the statistical findings about the process performance to ultimately create an in-depth understanding of the underlying workflow. The result is an enhanced process model which clearly highlights bottlenecks, reworks, waiting times and process loops. This technique is fundamental for, e.g., a root cause analysis and process improvement initiatives to detect and solve inefficiencies throughout the process flow.
The Centerpiece of Process Mining: Event Logs
Like mentioned before, process mining software utilizes the data extracted from supporting information systems - the event data. It is, therefore, crucial for the success of such an implementation or project that the data identification and collection is executed appropriately. Initially, all IT systems that are used to execute a process need to be identified. Some processes might be supported by one system only while others rely on several different software solutions. An existing process and IT landscape, for instance, can help accelerate this step.
Subsequently, the data must be transferred into the software. For a permanent solution, an automated connector can be implemented which ensures a constant flow of information between the two systems. As with data mining, the software's algorithm then analyzes and groups the individual data events and creates an end-to-end view of the process's execution. For that, it is necessary that each event record consists of at least one clearly definable case identifier, a timestamp, and a task definition. Of course, additional information such as resources, costs and further descriptions can be included in the event log to support more detailed analyses. Especially performance mining and variant analyses benefit from additional attributes.
| Case ID | Timestamp | Activity | Resource | Loan goal | Requested amount | Offered amount |
| --- | --- | --- | --- | --- | --- | --- |
| C001 | 18-04-2020:10:00:02 | Check completeness | Sue | Mortage | 100.000 | - |
| C001 | 19-04-2020:11:15:12 | Check credit history | Sue | Mortage | 100.000 | - |
| C001 | 19-04-2020:15:09:00 | Calculate risk score | Bob | Mortage | 100.000 | - |
| C001 | 20-04-2020:09:13:34 | Make offer | Mike | Mortage | 100.000 | 70.000 |
| C001 | 25-04-2020:09:00:03 | Make offer | Mike | Mortage | 100.000 | 80.000 |
| C002 | 20-04-2020:09:20:00 | Check completeness | Sue | Car | 15.000 | - |
| C002 | 20-04-2020:09:23:06 | Check credit history | Sue | Car | 15.000 | - |
| C002 | 22-04-2020:10:09:01 | Calculate risk score | Elsa | Car | 15.000 | |
| C002 | 24-04-2020:08:35:03 | Reject Application | Elsa | Car | 15.000 | |
At this point you might ask yourself: "What if we are still using legacy systems? Is our data quality good enough?". The simple answer is, it is possible to obtain data from almost any enterprise system, as well as from vertically specialized solutions. And you are not alone. A lot of organizations are still relying on legacy systems. Hence, process mining is still on the table! It is always beneficial to include both internal Data Experts as well as experts from the vendor's site to determine the data quality and the next best steps.
Benefits of Process Mining
After talking about what process mining is, and how it is executed, it is now important to clarify the "why"- Why should you implement it? There are numerous reasons and use cases for process mining software. Overall, it creates enormous transparency and allows organizations to monitor KPIs, to check the process conformance and much more, providing operational support to make better process-related decisions. Whether you already have an established Business Process Management in your organization, or you are currently starting your process management or digital transformation journey, process mining can support your initiative. It can be a quick start to BPM, especially thanks to the automated business process discovery. On top of that, it enables businesses to fully grasp their processes and, therefore, supports many, especially, digital initiatives, such as:
Continuous Process Improvement Cycle - Truly understand your business processes and implement change actions based on real-time data.
Increase Processual Efficiency - Analyze bottlenecks, process loops, and common reworks that otherwise stay undetected.
Process Automation / RPA – Detect and evaluate opportunities for RPA, accelerating your automation initiatives.
Improve the Customer Satisfaction - Reduce unnecessary waiting times, repetitions and enhance the overall customer journey.
Support your GRC Management - Utilize conformance checking to analyze whether your processes are compliant with all necessary rules and regulations. Quickly identify non-compliant cases.
Increase Agility - Identify process flows that are more efficient than the "mainstream" and roll them out company-wide.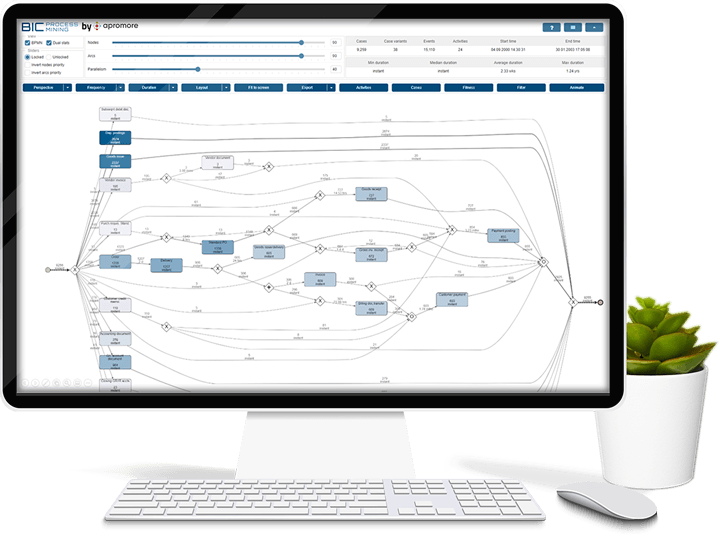 The tool of your choice -
BIC Process Mining by Apromore
BIC Process Mining by Apromore is a powerful and easy-to-use process mining software, that offers its users a vast range of analysis techniques. Based on the world-leading algorithm Split Miner, the tool detects parallel process steps, allowing the user to seamlessly switch between process map and BPMN 2.0 model. Long cycle-times, bottlenecks, back loops, and error-prone processes are identified with ease. The comprehensive and customizable dashboard allows Business Analysts to evaluate process workflows and facilitates the involvement of senior management and executives in the improvement process.
Experience the full potential of process intelligence
with BIC Process Mining
Because you can only optimize the weak points that you are aware of: discover the true potential of data-driven BPM with the best software at hand. Learn more about how process mining can positively influence your business performance.
Do you have any questions?
Do you have any questions about our products or services?
Our experts will gladly assist you and look forward to your request.