An Introduction to Workflow Management
In times of complex business processes, an intensive team collaboration across different departments and locations and the need to constantly adapt workflows to changing market requirements and customer wishes, the topic Workflow Management is becoming increasingly important. Keeping processes as simple as possible, standardizing them, recognizing potential for optimization and automation of work steps often determines about success or failure of a company.
What is meant by Workflows and Workflow Management?
Everyone has certainly heard of the term "workflow" and possibly even used it. But what exactly does it mean and what is the difference to related terms such as "process"? Find out below!
Definition of Workflows
The term "workflow" describes a work process that consists of several individual and often repeatable activities, which in their entirety constitute a business process. The various activities are interrelated both temporally and logically and pursue the achievement of a predefined goal. The individual steps do not necessarily have to be performed one after the other but can also be processed in parallel. Workflows always contain one or more start and end events that initiate or complete the workflow. They are often based on a division of labor, so that the individual activities are performed by different people or (project management) teams.
Definition of Workflow Management
Workflow Management deals with the targeted coordination and automation of workflows. Due to the high division of labor and complexity of workflows, it has become an important management task for companies in recent years. According to generally accepted definitions, Workflow Management comprises the modeling, simulation, control, logging and analysis of workflows. For this purpose, the decision-makers of a company define certain rules on how individual processes should be carried out, determine responsibilities and assign tasks based on the division of labor. In addition, Workflow Management defines which event starts a process and when a process is considered completed.
Goals of Workflow Management
The processing of invoices or the approval of vacation requests are common workflow processes. The goal of Workflow Management is to coordinate the usually large number of processors and teams that work - spatially distributed - on the different tasks and to control the course of the process. This should be planned as efficiently as possible to ensure a smooth workflow and to avoid errors during execution. While a workflow has a specific result as its goal (e.g., the processing of an invoice), Workflow Management should lead to better results concerning specific goals (e.g., the achievement of a specific throughput speed through automation).
What distinguishes Workflow Management from Business Process Management?
Closely related to Workflow Management is Business Process Management (BPM). BPM deals with the continuous analysis and optimization of enterprise-wide processes and is therefore located at the technical and conceptual management level. To a certain extent, the results of process management form the basis for the tasks of Workflow Management, which represents the operational level and consequently has a somewhat smaller focus: Here, the individual steps of the company's end-to-end processes are analyzed and optimized in detail, rather than being integrated into a larger context. Workflow Management can therefore be regarded as a part of BPM. Both BPM and Workflow Management are an important strategic component for the digital transformation of companies.
What is a Workflow Management System?
A Workflow Management System is a software for managing workflows and automating the modeled workflow processes. Such a Workflow System usually consists of the following three components:
1. Design
An important component of a Workflow Management System is the modeling of the business processes. Here, the planned process is defined by the sequence of work steps, linked with rules and assigned to a responsible and authorized person, role or team. In addition, the documents and IT systems relevant for the execution of the work steps are defined. When modeled correctly, the process flow can be automated in step two.
2. Execution
Another component is the execution of the modeled processes by a so-called workflow engine. According to pre-established rules and sequences, individual tasks, documents and information are passed on from one process participant to the next. The workflow engine monitors compliance with the individual process steps and triggers new work steps after their completion.
3. Monitoring
Finally, a Workflow Software also integrates a KPI-based monitoring component, often presented in a dashboard. It can be used to create comprehensive analyses and comparisons of the individual processes of the respective workflows and to identify potential for improvement and automation. These then serve as the basis for optimizing the original process model, which (after adaptation) directly provides the new, improved workflow to the team members.
What are the advantages of a Workflow Management System?
A Workflow Management System aims to improve process quality, which can be seen, among other things, in a higher productivity, which leads to shorter throughput times, reduced costs and increased transparency. Although a Workflow System does not necessarily require the use of a software, an IT-supported Workflow Automation helps to centrally control the coordination of (complex) work tasks, thus standardizing individual processes and automating recurring work steps. Particularly where many team members work together, a Workflow Management Tool ensures the correct adherence to corporate processes and increases the productivity of those process flows.
All in all, a Workflow Management Platform contributes to a user-friendly understanding of how daily tasks are organized in the company, where individual workflows need improvement and where steps can be automated. This is exactly what makes Workflow Management a comprehensive management discipline: Because process optimization is not just about configuring a Workflow Management Software and modeling process flows. Rather, the focus is on how you can make daily work easier for your employees and promote collaboration within the team. For this reason, Workflow Management and Workflow Automation should not be set up as an onetime project but should be understood as a constant, company-wide management task.
What are the typical functionalities of a Workflow Management System?
Workflow Management Systems are considered as universal software solutions that can theoretically support any simple or complex workflow. In general, such a Workflow Software has the following functions:
Graphical process modeling for the definition of end-to-end workflows. The mapping of business processes can be done in different modeling languages, such as the widely used standard BPMN 2.0.
Automation of business processes directly from business modeling.
Reduction of manual activities by integrating software robots.
Effective task management and project management through system-controlled processes.
Direct change notifications when adjusting the workflow as well as assigning new tasks.
Extensive collaboration capabilities with other process participants and project managers.
Fully integrated document management system including data import and export.
Individually configurable access permissions with role-based process views.
Holistic process control through real-time process monitoring for continuous improvement.
Seamless integration of the Workflow Management Software into the system landscape as well as the possibility to integrate third-party systems (e.g. ERP systems).
This comprehensive catalogue of services emphasizes that a Workflow Management System is not a trivial Workflow Solution, but a technologically sophisticated tool. The concrete design of the individual functions, the interface, and the automation possibilities vary depending on the Workflow Management Solution and the provider. When comparing the different Workflow Tools, you should therefore make sure that the functionalities optimally cover your use case, including your requirements.
BIC Process Execution:
the best Workflow Management Solution on the market
BIC Process Execution provides you with the technology you need for your workflow and project management. From domain-oriented process models, directly executable business processes are generated in a unique way - without any programming! Thanks to the powerful zero code technology and digital checklists, process participants can view and execute their activities directly in the Workflow Solution. By using RPA, you can also automate time-consuming, manual activities. In this way, you can avoid unnecessary extra work, reduce throughput times and costs, and optimize your overall productivity. Even while on the road, thanks to the mobile-ready, cloud-based application, you have access to the tool's full range of functions and enjoy maximum flexibility and security. The result: A business-critical management software that adapts to your needs, not the other way around. You do not want to waste time and get to know BIC Process Execution directly? Then make an appointment now for a personal presentation of our Workflow Tool.
Which processes are suitable for a Workflow Management System?
In Business Process Management, a basic distinction is made between standard workflows and non-standard ad hoc workflows. Ad hoc workflows are situational processes (this can also include a onetime project) that run differently according to the circumstances and time. Depending on the situation, the employee decides on the activities to be executed. Therefore, the course and the result of the workflow are not predictable and consequently cannot be automated by a Workflow Management Software. In contrast to such ad hoc workflows, standard workflows are subject to a certain regularity. These include routine tasks and recurring procedures in business processes such as purchase orders or application and approval processes. The fact that these types of workflows always follow the same pattern and sequence makes the process predictable and plannable. As a result, standard workflows can be automated and are therefore ideal for a Workflow Management Solution. Here are some examples:
---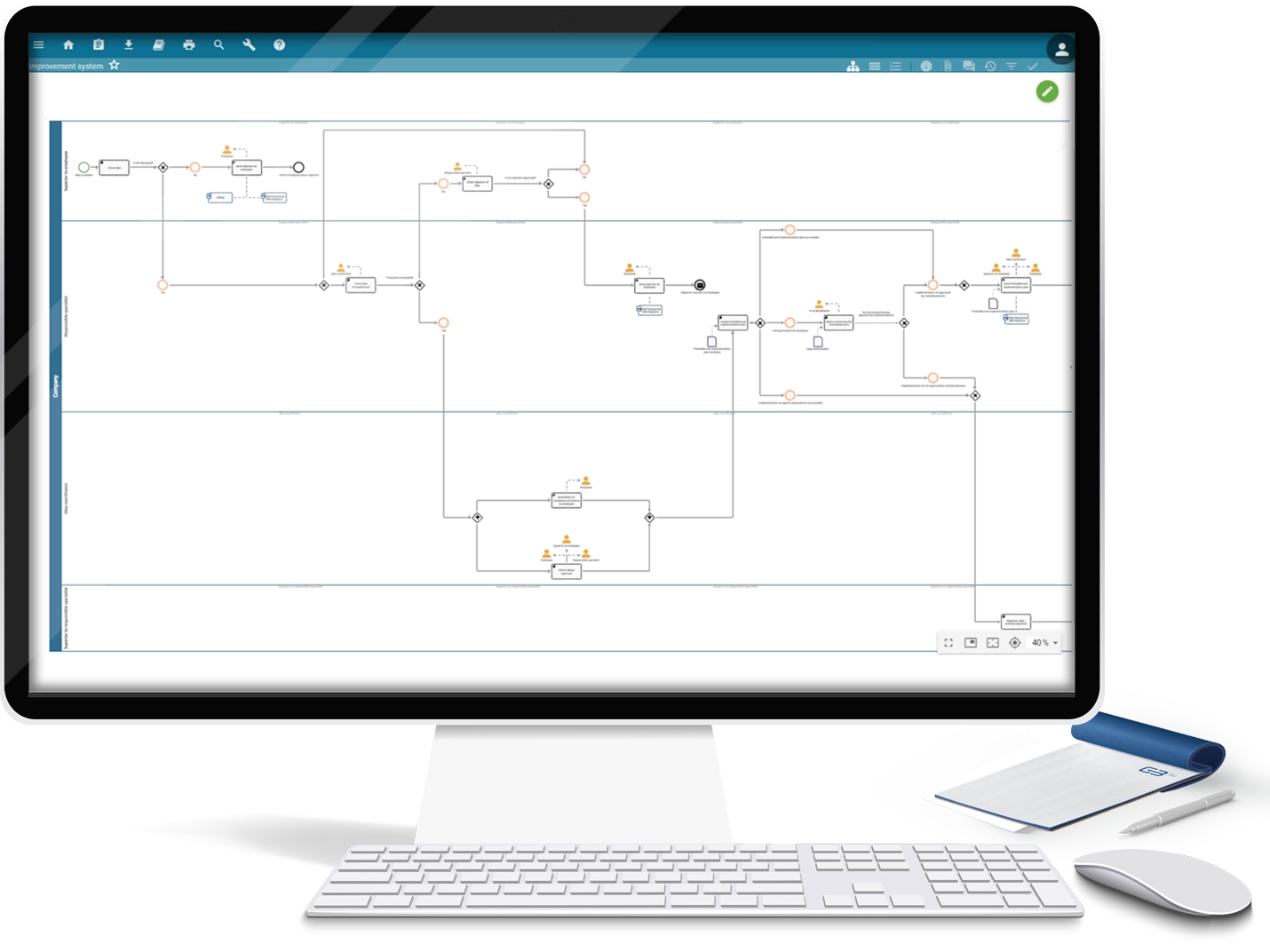 Continuous improvement process
Challenges
The Continuous Improvement Process (CIP) characterizes the constant improvement of product, service and process quality. An important prerequisite for the CIP is the definition of business processes to make improvement and automation potential visible and to implement improvements on a process basis. Particularly in large companies, great successes can be achieved through Workflow Automations. On the other hand, undocumented, incomplete or faulty business processes make the continuous improvement process more difficult. In addition, CIP is an important component of quality management in accordance with DIN ISO 9001. This standard is based, among other things, on the principle of a process-oriented approach. For certification to this standard, companies have to demonstrate a process-based quality management system that enables them to maintain and continuously optimize a certain level of quality.
Benefit
With a Workflow Management Tool, you do not only model your company processes, but also ensure that they are executed correctly and automatically. By mapping your business processes, e.g. in BPMN 2.0, you create transparency and fulfil an important part of ISO 9001. At the same time, you can identify errors and weak points with the real-time monitoring component of the Workflow Tool and thus contribute to a continuous improvement of your process flows. In addition to increased employee and customer satisfaction, the process improvements lead to a higher productivity and cost-efficiency for your company.
---
Challenges
Onboarding is crucial for companies because the integration of new employees has a major impact on their further development and productivity. It determines whether they feel welcome, enjoy working with the company and integrate well into the team and company. The onboarding process starts shortly after the contract is signed. From then on, the employee's equipment must be ordered in time, the course of the first working days must be organized and potential contact persons must be identified. In addition to the HR department, the IT department and various other departments are integrated in the preparations. Keeping track of this and coordinating who needs to be active at which point is not so easy.
Benefit
A Workflow Management Software can support you in the necessary preparations and the fulfilment of the ToDo's. Thanks to effective task management and document management as well as automated workflows, everyone involved in the process knows when and how they can contribute to a successful onboarding. To this end, the responsible team members automatically receive notifications when tasks have been assigned to them or changes have been made. Should the onboarding process ever stop, the comprehensive monitoring functions and ready-to-use dashboard make it possible to identify directly where the problem lies.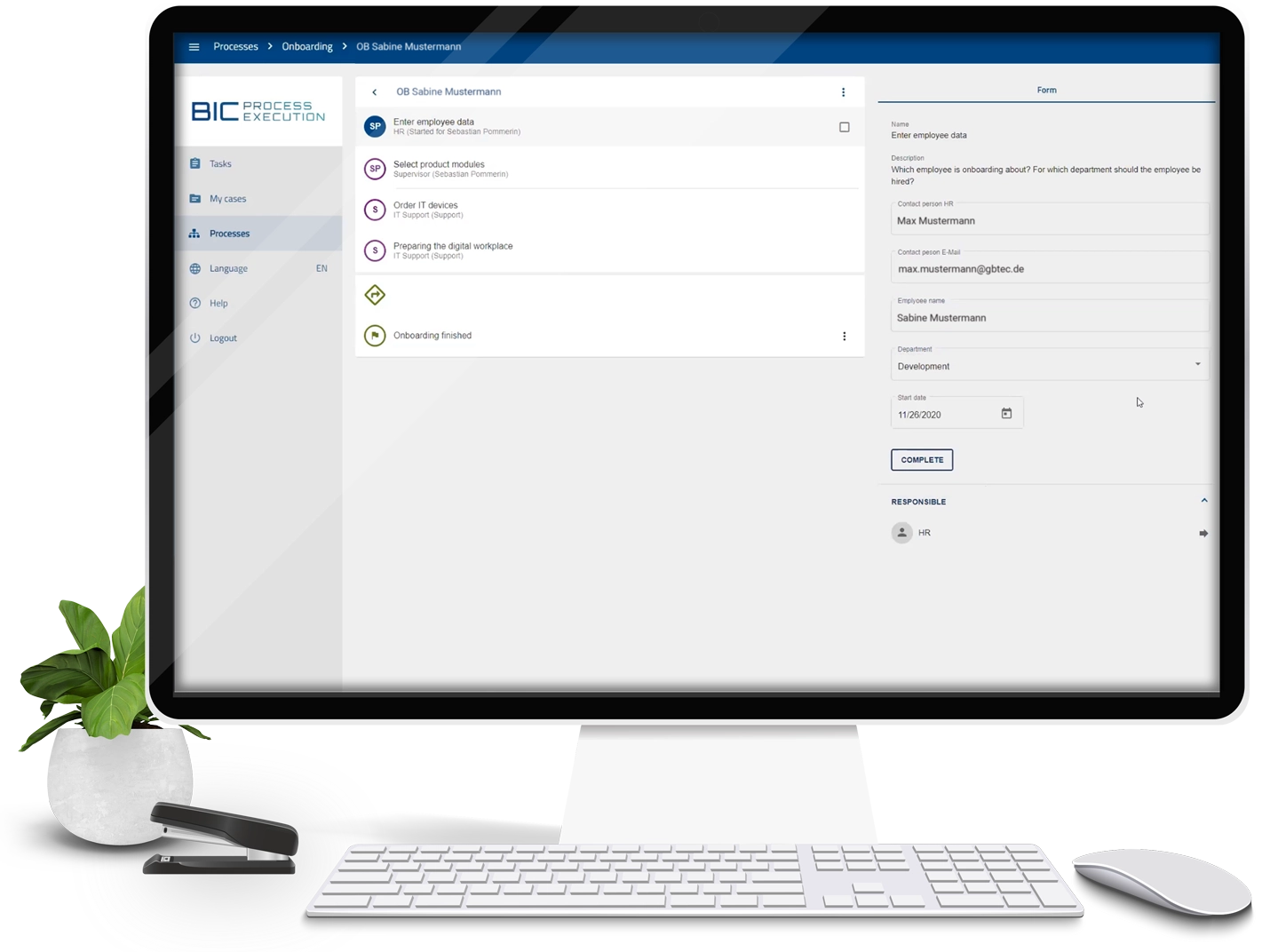 ---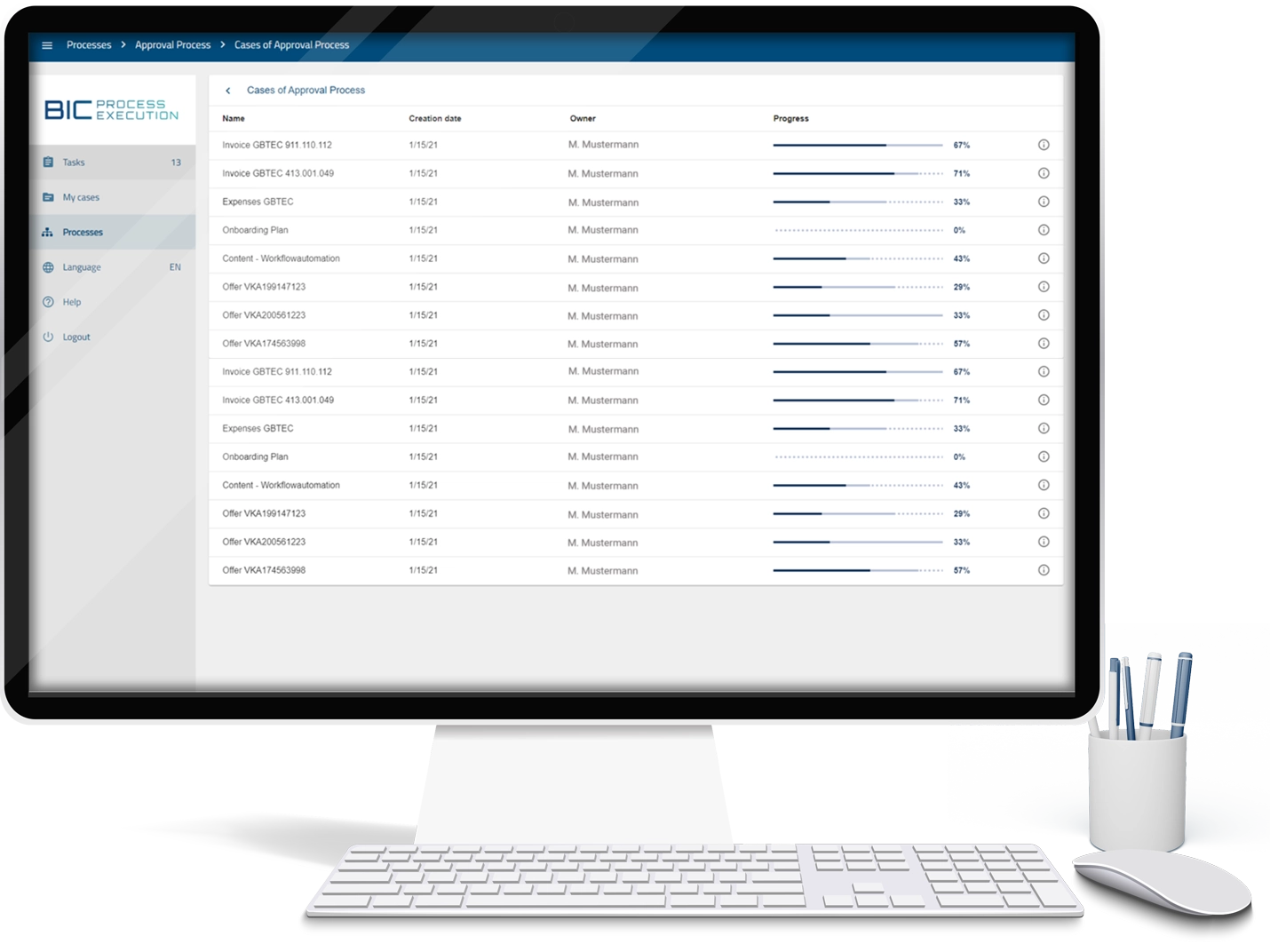 Approval and release processes
Challenges
Another typical use case for Workflow Management Software is an approval workflow. According to internal and external compliance rules, business-critical processes require approval by defined responsibilities. This applies, for example, to the approval of invoices or the publication of press releases in marketing. When coordinating such multi-level approval requests via e-mail alone, chaos is inevitable. Meeting deadlines is also a major challenge.
Benefit
With a Workflow Management Tool, you avoid e-mail and filing chaos. Instead, you define directly in the tool who can submit which approval requests, who is the right approver for which business process and how the workflow should take place. This means that you can easily comply with both internal rules and legal regulations. The uniform and transparent documentation also provides all relevant information for the audit. At the operational level, a Workflow Tool leads to more transparency: Thanks to the people-driven dashboard view, the processing status and the process progress of the individual workflows can be viewed in the Workflow Management Tool in real-time.
Are you looking for a Workflow Management Software?
Then you shouldn't miss BIC Process Execution!
BIC Process Execution covers all requirements for automated workflows, transparency, collaboration and efficient business processes. At the same time, the Workflow Software impresses with its modernity, easy-to-use interface and technical excellence. Convince yourself!
Process Automation with
BIC Process Execution
Get even more out of your processes with our best-in-class zero code technology and transform your business processes directly into executable processes without any programming effort. Learn more about the advantages of our groundbreaking Automation Software.
Get to know BIC Process Execution
in a free live demonstration
Automation doesn't have to be expensive! BIC Process Execution offers the best way to automate your processes. We would be happy to show you how easy and convenient it is to execute your processes with one click only via BIC Process Execution.
We have the information you need to unleash your full automation potential. Take a look at our resources and start improving your business performance today.
Do you have any questions?
Do you have any questions about our products or services?
Our experts will gladly assist you and look forward to your request.