Citizen Development: Overcome Coding Challenges to Boost Your Process Automation
In many companies, most of the processes are still carried out manually - with the result that organizations not only waste time and money, but are also highly prone to errors during processing. Companies often turn to various applications to replace such inefficient processes and drive digital transformation. However, IT departments can hardly keep up with the numerous application requests, partly due to the shortage of skilled workers.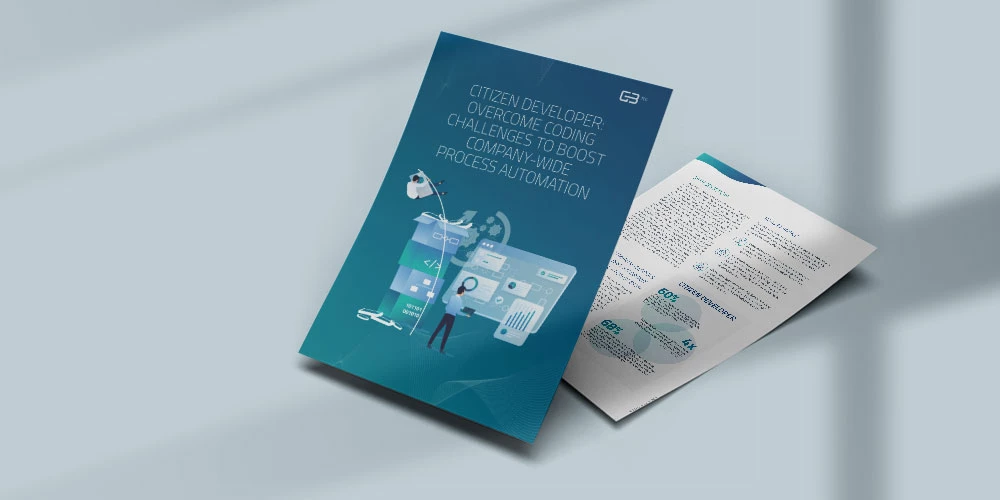 Citizen Developers can do something to counteract this: With the help of no-code and low-code automation, they create digital workflows in the shortest possible time and therefore play an increasingly important role in the digital transformation of companies. In this whitepaper, we define the terms citizen developer, no-code and low-code, and highlight the key benefits as well as the challenges and value of Citizen Develoeprs.
In addition, we will use a customer example to show you how Citizen Development can be implemented in practice and what added value no-code/low-code automation brings to everyday business. Since many organizations are still hesitant to use the potential of Citizen Developers, we will conclude by clarifying three frequently asked questions from companies on this topic.
Read our informative whitepaper and dive even deeper into the world of Citizen Development!
Do you have any questions?
Do you have any questions about our products or services?
Our experts will gladly assist you and look forward to your request.