First in easy automation
Accelerate processes & increase quality
with BIC Process Execution
Are you still executing your processes manually and wasting valuable time with repetitive tasks? With BIC Process Execution manual, paper-based and monotonous activities belong to the past! Thanks to its unique No Code and Low Code technology, you can automate your processes quickly, easily and without any programming effort. Create a unique experience for employees and customers with accelerated processes, while benefiting from higher quality and better performance.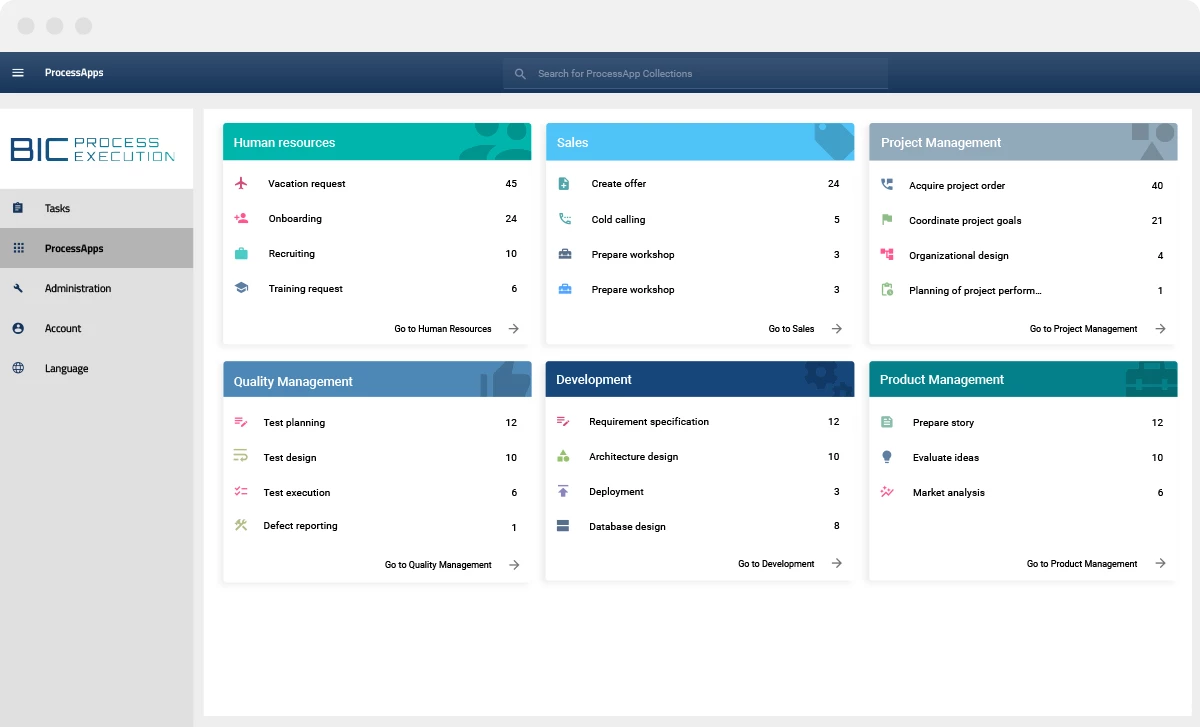 Companies from all over the world trust us
Process automation in days, not months
Today, manual processes are considered detrimental to business. Nevertheless, about 68% of all processes are still executed highly manually. We say: Knock it off! Because process automation doesn't have to be expensive nor complicated! With our unique No Code and Low Code technology, you can create digital workflows in just a few clicks. Automate your processes without any programming, by simply capturing your workflows graphically. From there, BIC Process Execution generates directly executable workflows. By integrating third-party systems and RPA (Robotic Process Automation), you massivley accelerate process execution and uniquely orchestrate humans, IT systems, bots and data. The result: unprecedented time-to-value with digitalized workflows in record time.
Groundbreaking No Code and Low Code for Simple Process Automation
Whether simple or complex, any process can be automated - all without a single line of code. Our revolutionary automation solution, BIC Process Execution, transforms your manual, paper-based and repetitive activities into digital forms, executable workflows and tasks automated by bots. Simple and effective!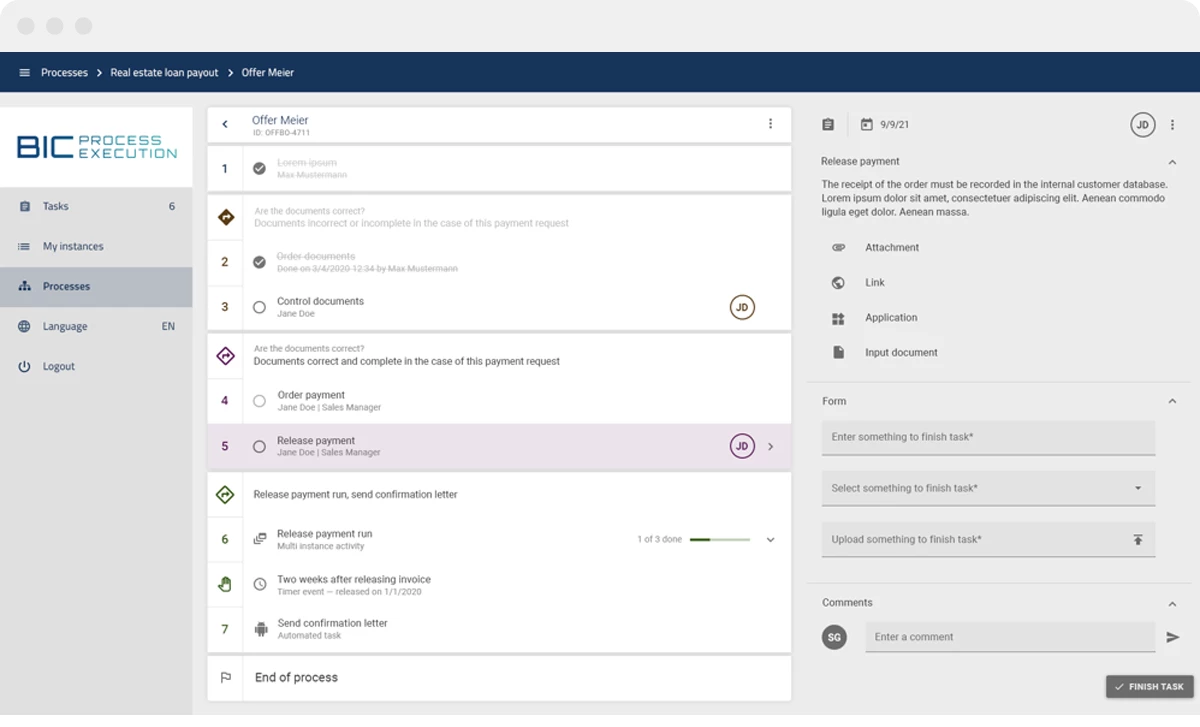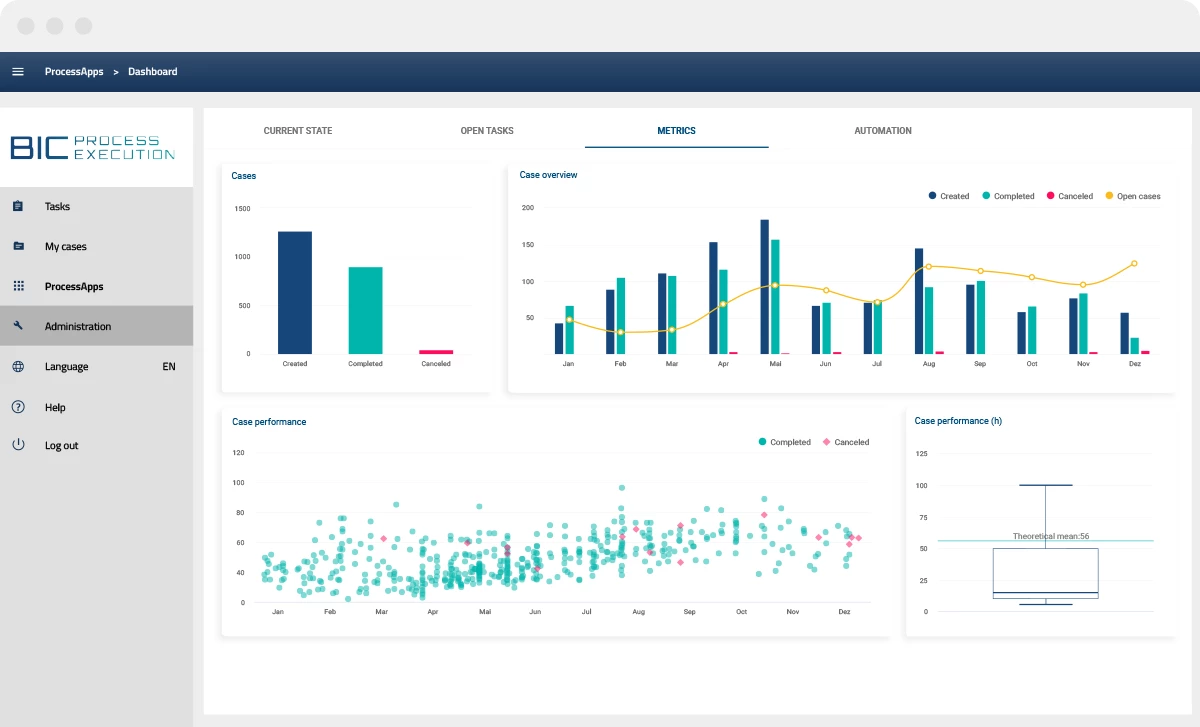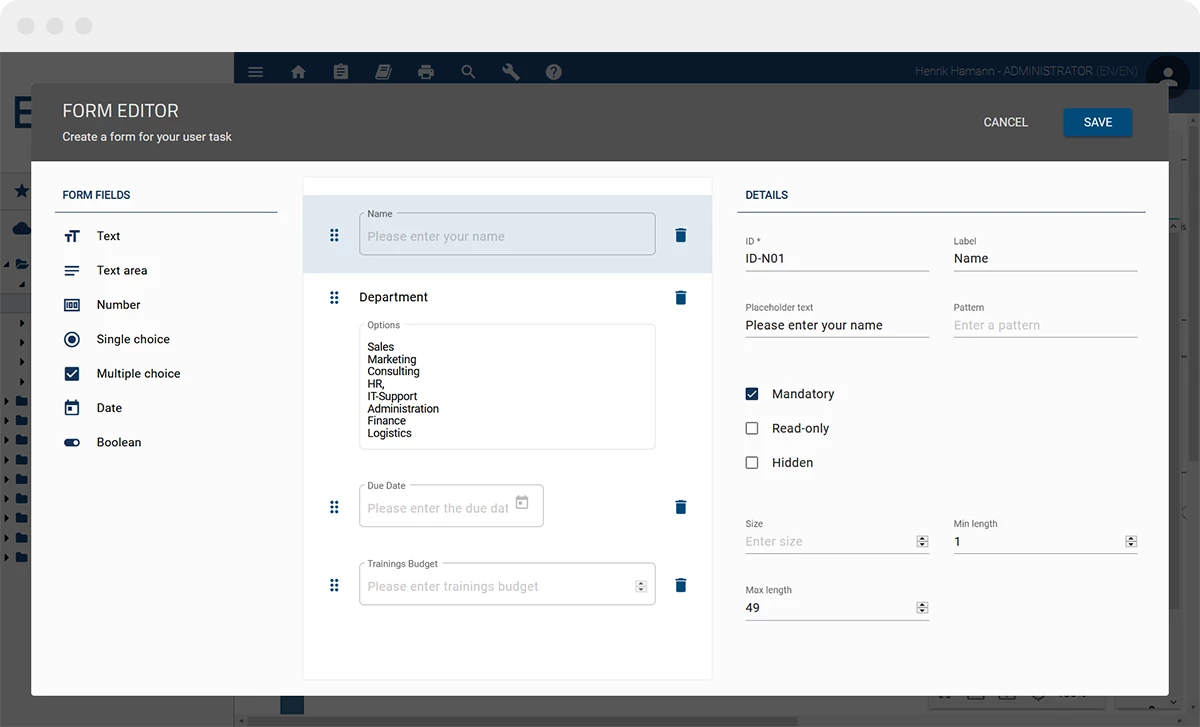 Design, implement, and scale executable workflows 10x faster
Take the lead in automating your workflows with our all-in-one solution consisting of breakthrough no and low code technology, dynamic case and task management, and a powerful BPM workflow and DMN decision engine
Automate your processes as easy as never before: with intuitive drag-and-drop modeling and without a single line of code
Create digital forms in seconds for fast data capture thanks to the easy-to-use form editor
Grow beyond yourself: benefit from maximum flexibility thanks to our mobile, cloud-based application, an unlimited number of processes and operations for maximum scalability, and a direct start into process automation by providing numerous process templates
A new era of end-to-end automation: Integrate third-party systems and RPA like never before
Easily integrate your third-party systems such as SAP®, Microsoft Dynamics®, Salesforce®, Sharepoint®, Microsoft Office®, UiPath®, and more thanks to the robust plug-in framework and a powerful REST API
Ensure optimal interaction between people, IT systems, bots and data thanks to end-to-end, seamless automation
Easily extend process automation with Robotic Process Automation and create a world-class employee experience by eliminating repetitive and monotonous tasks
Benefit from better performance and higher customer satisfaction through faster response times and reduced error-proneness


Set new standards in process optimization through comprehensive process monitoring
Conveniently track your process performance and always keep an eye on the processing status and process progress for each business transaction
Identify weaknesses, error-proneness and bottlenecks on the basis of comprehensive process analyses and make targeted process improvements
Facilitate collaboration between different business units through collaborative functions and benefit from reduced information loss
Create exceptional adoption and better feedback on potential process improvements through a world-class user interface and ease of use
A rocket launch into process automation thanks to numerous process templates
Select, adapt, automate: three steps to automated processes. Whether purchasing, support, finance or HR processes, we have them all. Use our wide range of process templates, adapt them to your requirements and automate your first processes in just a few seconds.
Administration & Office Management
Visitor registration
Equipment requests handling
Inventory management
COVID-19 visitor tracing
Office safety inspection
Customer Success Support
Responding to managed services requests
Customer feedback collection
Customer onboarding
Churn prevention
Finance
Invoice generation
Invoice approval workflow
Invoice verification
Invoice processing
Grant management application
Expense reporting
Department forecasting
Close yearly accounts
IT Management
IT change management
Execute user access management
Cloud software updating
Managing IT requests
IT support ticket handling
IT services requests handling
IT help-desk support handling
Management
Business case preparation
Report approval
Crisis communications planning
Emergency response: business continuity planning
Business continuity planning
Quality Management
GDPR audit
Data protection impact assessment
Audit planning
Conducting ISO 27001 audit
Document approval
CIP (continous improvement process)
Procurement & Purchasing
Purchase requisition
Vendor qualification
Order placing
Invoice receipt handling
Purchase order handling
Vendor approval
Vendor onboarding
Facility Management
Tenant onboarding
Tenant offboarding
Facility issue management
Maintenance request handling
Human Resources
Payroll adjustment
Employee onboarding
Employee offboarding
Vacation request
Request paid time off (PTO)
Performance review
Employee change request
Training
Human resource development management
Temporary contract extension
Creating a COVID travel exemption
Requesting parental leave
Payroll and expense reporting
Work from home (WFH) approval
Manage job postings
New hire request management
Set up employment contract
Recruiting
Legal
Non-disclosure agreement (NDA) management
Contract redlining
Legal document checking
Marketing
Campaign planning
Dynamic feedback survey
Customer feedback
Monthly campaign review
Create media releases
Create press releases
Sales
Statement of Work (SoW) creation
Opportunity management
Quote request processing
Purchase order request handling
Revise sales contract
Lead qualification
Create proposal
Inbound sales lead discovery
Prepare tender response
Sales pitch planning
Together with GBTEC, we are constantly adding new functions to process management. This pays off, because with BIC Platform our employees have the best contact point to keep an eye on the processes that are important to them.
Michael MiesHead of Business Organization, MSIG Insurance Europe AG
The fastest and cheapest way for digitizing and automating your processes
BIC Process Execution provides the technology that you need to run your processes. Benefit from unprecedented features that revolutionize your business.
Our editions for your requirements
Choose from our three editions the right edition for your company depending on the desired level of automation and start the future of process automatization with BIC Process Execution.
GBTEC awarded recognition
Automated end-to-end workflows
designed to boost your processes
Generate digital end-to-end workflows without any programming and boost your operational efficiency. Discover the full potential of optimized business processes and achieve significant progress for the digital transformation in your company.
Do you have any questions?
Do you have any questions about our products or services?
Our experts will gladly assist you and look forward to your request.