GRC for highest demands
Unlimited possibilities
with BIC Custom GRC
Do you need a solution that mirrors your established governance, risk and compliance processes in their current form? If so, the right choice for you is BIC Custom GRC, a GRC software that is completely tailored to your specific requirements - either by an in-house team or with GBTEC as part of a project. BIC Custom GRC fully adapts to your unique technical and business needs.
Companies from all over the world trust us
Choose a custom GRC solution from the market leader
With BIC Custom GRC, you can fulfill all requirements within the scope of governance, risk and compliance. The development stage is adapted to the GRC maturity level that reflects your needs. You can flexibly map your GRC processes in the tool by configuring existing BIC components or implementing individual specifications from scratch. BIC also enables an integrative way to map a wide range of GRC processes and use cases – such as risk, control, compliance, security and audit – in a flexible, efficient enterprise management system. Due to the vast possibilities in BIC Custom GRC, midsize companies, large corporations and international players can all create custom integrated GRC solutions for their unique demands.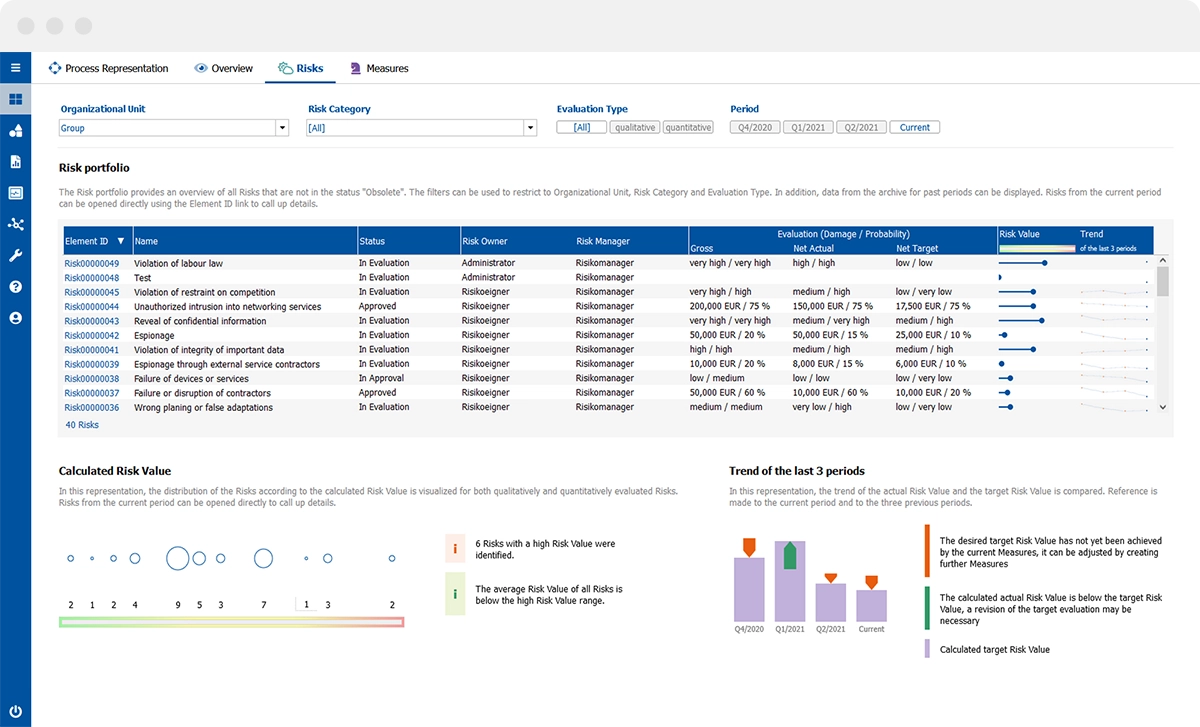 Tailored. Future-proof. Extensible.
BIC Custom GRC goes beyond the mere fulfillment of formal and external requirements, such as compliance with various guidelines. The software establishes an active, integrated GRC management system to support sustainable improvements to the company and drive operational excellence in a transparent, binding manner.

BIC Custom GRC is designed to support rollouts of all sizes and levels of complexity. Whether your GRC software solution supports 5 or even 5,000 users, the underlying platform from GBTEC ensures constant, robust performance.
With BIC Custom GRC, companies are able to map their own governance, risk and compliance processes exactly as they wish. Due to the technological design, adding new users is a simple, straightforward process. Think big but start small and extend your GRC over time with additional users or other GRC processes such as enterprise risk or internal control. BIC Custom GRC grows with your changing needs.
Enterprise data security has high priority in any company. As a GRC software vendor, however, it even ranks at the very top of our list. We are dedicated to making constant security improvements in our GRC tool to ensure that your data, your company's most valuable asset, receives the best-possible protection.
At GBTEC, we regularly contract an external team of specialists to conduct comprehensive penetration tests that thoroughly examine BIC GRC and reliably detect any potential or emerging threats well in advance. This guarantees the security of BIC Custom GRC - and, therefore, the security of your data.


Major reduction in administrative tasks
With BIC Custom GRC, you drastically reduce the administrative work for integrated GRC. You can implement any changes in a test system and, upon completion, transfer them to the live system with the touch of a button. The transport mechanism in BIC automatically passes on changes and you immediately work with production data.
Instead of spending your time on routine administration, you can focus on more important tasks for your business. Many companies use Excel applications to implement risk management, which results in an immense amount of administrative work. BIC relieves you from these tasks and saves valuable resources so you can fully concentrate on optimizing or extending your GRC management system.
State-of-the-art handling
BIC Custom GRC offers vast visualization capabilities specifically for governance, risk and compliance. If desired, you can work with custom sliders or even smileys. Interactive heat maps that can be edited directly are supported as well.
The intuitive interface of the GRC tool ensures an optimized user experience. Since each user is guided through the necessary steps, there is no need for extensive – or expensive – training.

The estimated internal rate of turn for integrating risk management and the internal control system was well over 15 %. The efficiency increased significantly with 25 % less work. Moreover, we gained across-the-board acceptance, from employees to executives.
Marco MannesProject Manager, EnBW
BIC Custom GRC for a fully custom-built solution
Don't let a GRC software set limits to your needs and requirements. BIC Custom GRC completely adjusts to your existing processes, guidelines and needs.
A good idea today, implemented by tomorrow
Fulfill all your obligatory requirements (e.g., ISO standards) while generating decisive advantages for your business success in the process. Reports from all areas of GRC provide top management crucial insight on the current situation throughout the organization and lay the foundation for strategic decisions. Your GRC tool adds tangible value and ensures that you attain your corporate targets.
Take your governance, risk and compliance to new levels with BIC Custom GRC.
Intelligent GRC – Support the integration of various GRC processes in a single, enterprise management system.
Tailored GRC – Configure and customize specific governance, risk and compliance requirements in BIC Custom GRC to your needs.
Digital GRC – Integrate data and information that already exists throughout the organization.
Connected GRC – Promote collaboration, communication as well as a structured way to exchange information across various internal and external GRC teams.
Customised Governance, Risk and Compliance Processes for the highest demands
With BIC Custom GRC, you can implement your company's individual GRC processes exactly as you wish. The intuitive software speaks your language, adapts comprehensively to your requirements and grows with your company as a reliable partner.
Do you have any questions?
Do you have any questions about our products or services?
Our experts will gladly assist you and look forward to your request.