Adding value through transparency
Optimal business processes
thanks to BIC Internal Audit
Software-driven audit management helps companies attain their goals by offering a systematic approach to evaluating and improving the effectiveness of risk management, controls and management processes. BIC GRC for audit management enables both internal auditing teams and external auditors to independently and objectively document their complete audit activities and findings. This provides an ideal foundation to improve the organizational processes and generate lasting added value.
Companies from all over the world trust us
Tap the potential of digitalized audit management
BIC Internal Audit helps your company utilize the potential of comprehensive audit management and visualize it at a glance. Create your audit plan or plan specific audits directly in BIC GRC and store your results and follow-up steps all in a single location. Structured, linkable dashboards containing rich visualization and filter options generate a status overview across your organization with the touch of a button. A wide range of filter options provide authorized users and auditors intuitive access to the content they need. Dynamic to-do lists also give real-time insight on which tasks are still open for a given user.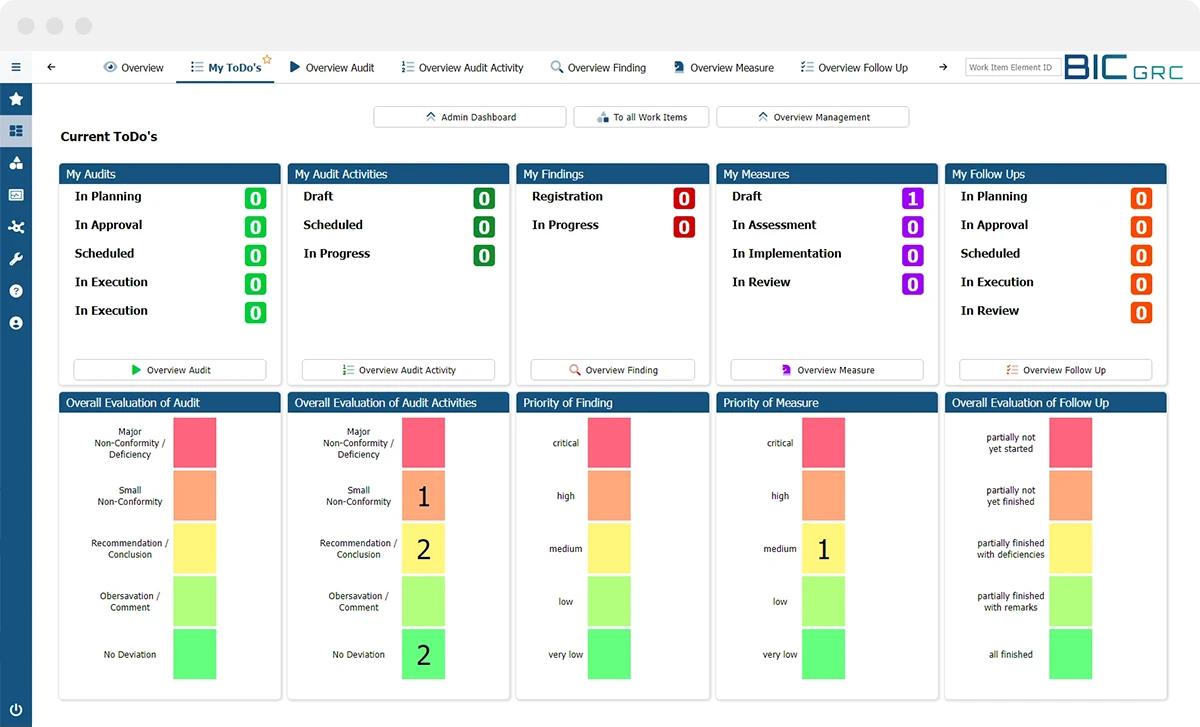 Transparent. Effective. Sustainable.
One audit management system for all your auditing needs. Take advantage of state-of-the-art software that fulfills your unique requirements.

Outstanding usability through intuitive dashboards
BIC Internal Audit offers a wide selection of individually customizable dashboards that support you in your daily work. Would you like to see the status or evaluation of your entire audit at a glance or simply access one specific finding? With BIC Internal Audit you get the exact information you need at any time based on your role and permissions. You can either use it to support your day-to-day management or decision-making or share it with executives or auditors.
Interactive controls make it simple to enter data directly through the dashboard or follow predefined links to a desired location. The intuitive navigation options ensure that you can work both fast and effectively.
Revision-safe auditing for maximum transparency
To ensure that your auditing processes stay in line with modern standards, you can define company-specific handbooks, norms and laws as well as internal and external guidelines for auditing management processes in BIC Internal Audit. This includes ISO 19001, which contains instructions for auditing management systems such as quality management systems (ISO 9001) or environmental management systems (ISO 14001).
Once completed, each audit process or the entire audit itself will remain in the system and cannot be modified afterwards. This creates a history of all audits, which can be accessed at any time, for 100% transparency.


Vast customization capabilities for a flexible integration into existing projects
The concept behind BIC Internal Audit is based on a highly intuitive workflow and user-friendly views. Users have the ability to navigate the application intuitively and easily and finish all of the tasks using the dashboard views. They can also add individual views to the application at any time for an optimal overview.
Aside from being easy to use, BIC Internal Audit also stands out for its straight-forward, low-maintenance administration and upkeep. Another advantage is that you can quickly integrate BIC Internal Audit into your existing BIC GRC solutions.
High work efficiency through time-saving administration and collaboration
Internal auditing covers a wide range of tasks within an organization which can include topics such as enterprise management, risk management and management controls within an institution. BIC Internal Audit offers robust administrative functions so that you can manage these different facets without ever losing sight of the big picture.
BIC GRC also facilitates collaboration between individual contributors and staff functions through capabilities to run checks, enter comments, or start discussions directly in the tool at any step in the workflow-driven audit process. Users are informed about changes in the workflow through automated mail notifications that direct them directly to BIC GRC.

We chose BIC because it is a future-driven, interconnective GRC solution that supports the ongoing maturity process within this space. Compared to other solutions, BIC also offers the best usability.
Reto GuggerProject Manager, Visana
Transparency is key for sustainable success in business
Map your complete audit processes in a single software solution. This ensures that you build an efficient management system that meets your current and future needs.
BIC Internal Audit:
The business side
BIC Internal Audit was designed for companies that want to plan and document their internal and external auditing processes in concert within a single application. The software, therefore, maps the planning process and individual steps for conducting internal as well as external audits. The workflows are fully based on today's popular norms and standards. The underlying methodology is also designed to seamlessly extend the data from cyclical evaluations in planning overviews with data from acyclical audits. This enables you to generate a greater scope of information that can be intuitively filtered in BIC GRC.
The simple way to ensure audit safety and transparency throughout your company
BIC Internal Audit makes it easy to audit all process steps and management systems across your organization in a transparent, revision-safe manner. You can also use the BIC platform to support many other use cases to support all of your GRC needs and facilitate your daily work.
Do you have any questions?
Do you have any questions about our products or services?
Our experts will gladly assist you and look forward to your request.