Professional management of controls
Maximum quality
with BIC Internal Control
Use BIC Internal Control to quickly build an internal control system that serves as the central component for turning a sustainable GRC strategy into action. Discover how easy it is to implement a robust, future-proof risk and control system for managing and monitoring efficient, effective enterprise processes with BIC Internal Control.
Companies from all over the world trust us
State-of-the-art technology for your innovative internal control system
Digitalize your internal control system (ICS) with our intelligent software, BIC Internal Control. Its central workflow-based tool professionally manages process risks and controls to simplify various day-to-day tasks across all process contributors while adding value to strategic enterprise management. With BIC Internal Control you profit from an intuitive user interface that meets your every need to gain a clear view of all key controls and, therefore, ongoing insight on your enterprise internal control system.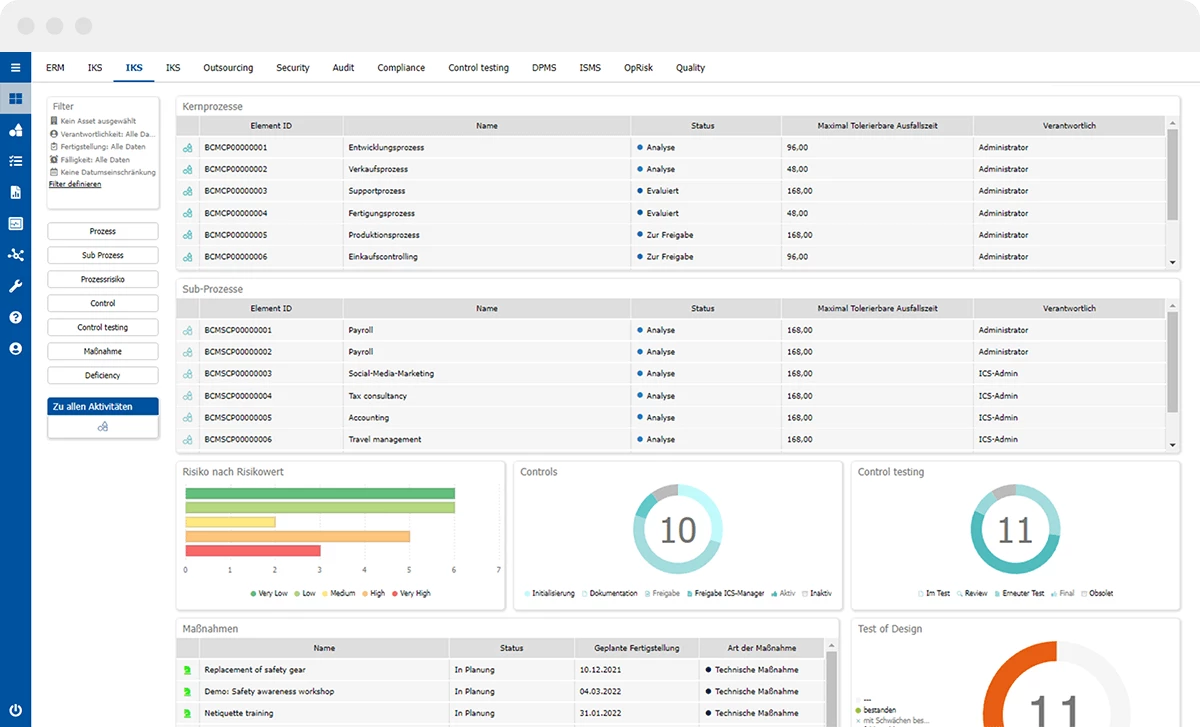 Complete insight. Comprehensive analytics. Predefined reports.
The vast functionality in BIC Internal Control fulfills your complete requirements for an innovative ICS with a state-of-the-art look and feel.

Innovative functions make it simple to build and extend your internal control system both now and in the future
Document and monitor all relevant process controls and force the ongoing optimization of the ICS with follow-up processes to eliminate vulnerabilities.
Maintain an overview over time to identify all targeted measures that have been taken to resolve key vulnerabilities.
Use specific ICS reports, for example, that visualize major vulnerabilities along with the respective measures or an overview of key controls in the respective area of responsibility.
Profit from a total overview summarized for each process in a single data sheet containing all key information – including the results of the control test, identified vulnerabilities and the respective measures taken.
Comprehensive dashboard functions provide the highest levels of transparency and user-friendliness
Get a clear view of all relevant aspects of the ICS process at any time from a central dashboard gateway that transparently displays all essential information for your needs at a glance.
Use the ICS process overview that visualizes the entire process to enable an intuitive navigation of the ICS module.
Maintain an overview of all controls and their test results within the respective area of responsibility using the dashboards for ICS analysis.
Make ongoing improvements to performance indicators on the status of the ICS test process to proactively manage your internal control system.


Predefined, on-demand reports intelligently visualize relevant information for various stakeholder groups
Use the predefined reports in BIC Internal Control to detect previously unknown potential for improvements and create an ideal foundation for ongoing system development.
Profit from dynamic, on-demand reports that provide a current overview of all recorded process risks and controls in the ICS.
Optimize the transparency of the ICS process through a structured ad hoc reporting process that enables you to deliver information and take action at any time.
Create awareness for the essential added value of a professional ICS system by providing management and all other contributing interest groups regular information updates in the form of visually optimized reports.
Easy administration and collaboration directly in the tool save valuable time and maximize efficiency
Simplify your day-to-day activities with BIC Internal Control thanks to workflow-driven processes that automatically start tasks, send e-mail reminders, and eliminate the need for follow-ups from colleagues.
Discuss open questions or details with colleagues directly in the tool and save time through automated approval processes.
Devote your time and energy to critical business issues instead of repetitive tasks that are automated in BIC Internal Control.
Utilize data from external sources by using Excel import and export functions instead of manual copy and paste into the ICS.

We started out with over 1,400 controls and reduced them to about 900 by optimizing structures and consolidating related topics.
Armin PlankSenior Security Manager, T-Systems International
Powerful controls as a foundation for long-term operational excellence
Our professional solution for your internal control system combines business expertise, technical ingenuity and a user-centric navigation. With BIC Internal Control you build the foundation for an internal control system that simplifies your everyday work and grows with your changing needs.
BIC Internal Control:
The business side
BIC Internal Control was developed based on leading standards for internal control systems including COSO, COBIT, ISO 20000, ISO 27002 and ISO 80001. The implementation of BIC Internal Control incorporates vast hands-on experience from multiple implementation projects.
With our solution for ICS, you implement key controls in your core processes according to the scoping process, conduct a test of design (ToD) and test of effectiveness (ToE), and prioritize any identified vulnerabilities. Once you have identified suitable measures to resolve any deficiencies, you can follow the progress of their implementation and set up sustainable follow-up processes. The configurable dashboards and reports in BIC Internal Control provide a thorough overview of the effectiveness of the ICS.
Control and monitor the processes in your company professionally and easier than ever
With BIC Internal Control, you can set up an intuitive internal control system in the shortest possible time and always have the option of expanding it or adapting it to changing requirements. Find out more about the extensive possibilities in BIC.
Do you have any questions?
Do you have any questions about our products or services?
Our experts will gladly assist you and look forward to your request.