What characterizes a Business Process Management Software and what is the Added Value from BPM for Companies?
A BPM (Business Process Management) tool is a software that focuses on the process-oriented management of business processes in organizations of all types, sizes and industries. This is no longer trivial, especially when considering the increasing complexity of business processes. Learn here, how a professional Business Process Management software enables the control of your business processes and what added value the introduction of such a BPM solution provides for companies.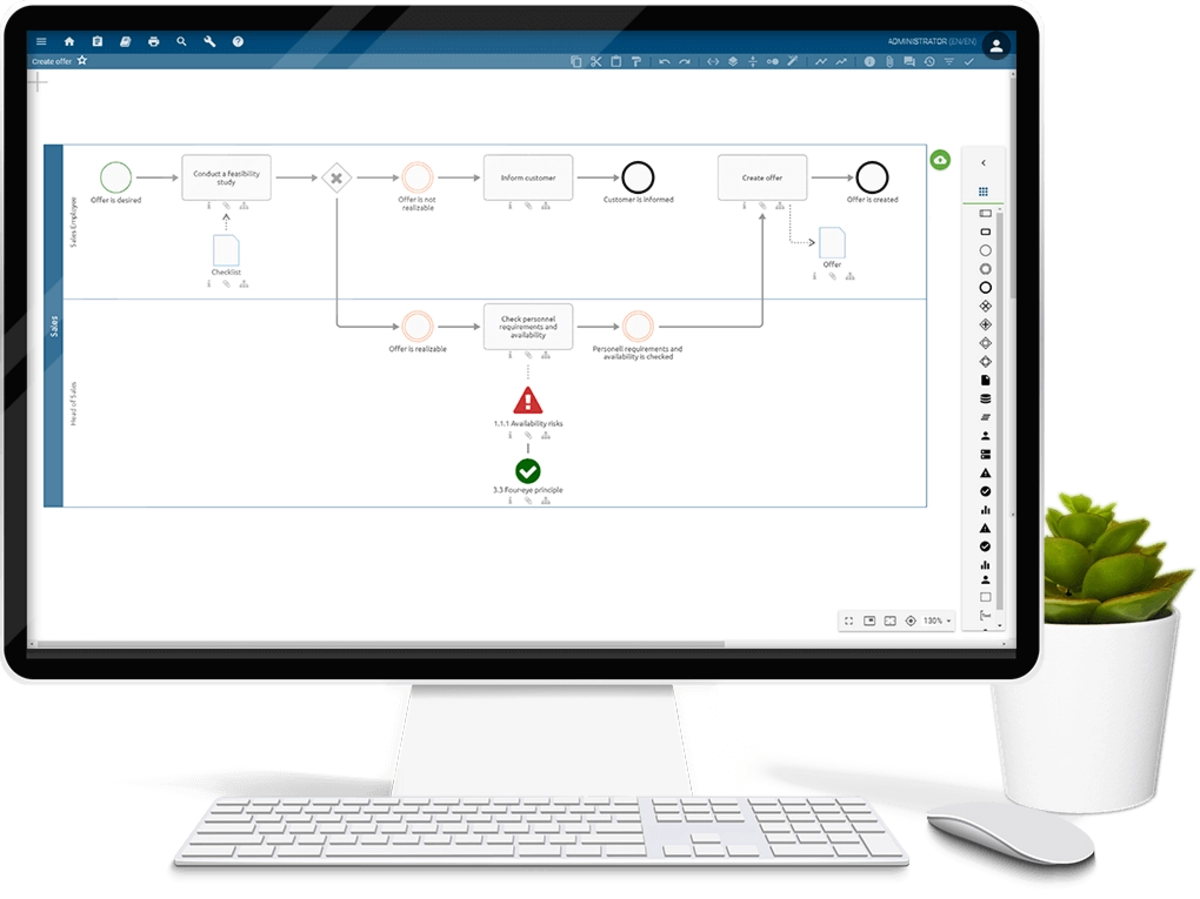 Professional business process management requires a professional BPM solution
The entry into the basic mapping of business processes is something many companies dare to do using pure visualization programs like Microsoft® Visio or PowerPoint. Here, workflows are visually represented by means of different graphic symbols to provide an initial overview of the company's business processes. However, process owners and business users who want to document and control their processes using such softwares soon reach their limits. The desire for a professional BPM software that not only makes process visualization much easier, but also enables comprehensive control of the business processes, quickly arises. As modern companies are faced with increasingly complex business processes, ensuring smooth operations is a challenge that should not be underestimated. Many work processes are nowadays carried out across different departments and locations and sometimes also involve third parties such as suppliers. Keeping control of all workflows, setting up a professional process management and simultaneously optimize or even automate processes is a mammoth task.
What distinguishes professional BPM software and what is BPM used for?
Business Process Management is often directly linked to corresponding BPM software solutions that are essential for achieving BPM goals. Since Business Process Management comprises much more than the simple graphical representation of process flows, common visualization programs do not cover all aspects of BPM. For a professional process management of enterprise workflows, various aspects have to be considered: these include process design, process automation, process measurement and process improvement.
In BPM, the process design involves the recording of process sequences in the company and the creation of process documentation. The results are so-called process models, often represented as BPMN diagrams, which visually show the workflow to all business users, provide the necessary process transparency and also relevant analytics. On the basis of this documentation, the first potential to optimize and automate these business processes can already be identified. In addition to process design, business process management also includes the execution and automation of business processes. The term workflow management or workflow management systems is often used in this context. These BPM systems aim to optimize process execution through automated or controlled task management and business rule management.
In order to meet all the requirements of business process management, a professional BPM platform should also enable the monitoring of workflows. Process Mining is particularly suitable for this purpose. With process mining, business processes and process flows are reconstructed on the basis of process data and monitored as well as automated in real time so that weak points in process execution and automation can be precisely identified.
The process design as well as the process automation and process measurement already lead to an optimization of the business processes when considered individually - in combination the effect is many times higher. BPM software solutions that cover the entire BPM spectrum are therefore often called BPM Platform or BPM Suite. GBTEC is one of the few BPM vendors on the market that cover the whole BPM cycle with its Business Process Management software BIC Platform.
The software is cloud-based, offers a low-code engine and a process-centric view. With BIC Process Design, BPM models can be created with a variety of modeling notations and viewed intuitively and in a very short time thanks to extensive analytics, our drag-and-drop modeling, a detailed change tracking and an innovative user-friendly interface. BIC Process Execution enables fast and reliable process execution and automation of tasks previously performed manually. In this way, companies not only increase the throughput time of their business processes, but also ensure less errors and higher process quality while using a low-code and cloud-based engine. With BIC Process Mining GBTEC offers one of the most innovative Business Process Management software for process measurement, monitoring and process automation. Based on process data, which are available in different IT systems, the Process Mining Tool automatically creates process flows of an organization, which can be analyzed, optimized and monitored in real time.
Why the introduction of a Business Process Management software provides real added value for your company
The requirements for an organization's business processes are becoming increasingly demanding. On the one hand, this is related to technological progress, which opens up new opportunities for companies to digitize and automate, but on the other hand, market expectations are also rising in terms of the quality and speed of processes. The introduction of a Business Process Management software helps you to successfully master these challenges and to strengthen your competitive position in the long term.
Increased efficiency by process optimization
The comprehensive mapping of business processes not only increases transparency and process know-how, but also uncovers optimization potential. The systematic use of professional BPM software enables the modeling, automation and analysis of workflows as well as the continuous improvement of business processes. In this way, costs and throughput times of your processes can be reduced and the efficiency of the entire company significantly increased.
Digital transformation
Driving forward the digital transformation is a high priority for almost all companies - regardless of industry or size. To actively promote digitization, a transparent view of a company's workflows is absolutely essential. This allows digitization strategies to be developed, customer requirements to be identified more easily and risks and opportunities to be highlighted. With the right BPM software, digital, automated and efficient workflows can be created, that easily meet the requirements of your team and your customers.
Extensive collaboration
The introduction of a BPM software that combines all process-relevant information also serves as a central collaboration space. Stakeholders can be involved in processes at an early stage, suggestions for process improvement can be exchanged easily and cross-functional workflows can be enhanced. This creates a high level of acceptance within the workforce and ensures that employees follow the specified process. Process deviations due to ignorance or lack of information are now a thing of the past.
With the BIC Platform you have the right all-in-one BPM Suite at your side
Whether process modeling, automation, measurement or optimization: With the BIC Platform, the management of your workflows becomes a simple task. The market-leading solution for Business Process Management fully covers all requirements of a BPM solution. All modules of the software can be individually combined with each other - so you get exactly what suits your company and your requirements. The BPM software also provides unique functionalities and is particularly intuitive for all users. Best-of-breed technologies, excellent design, strong performance and high usability make GBTEC the market leader for business process management software. Our process-based software was not only developed on a low code engine, but is also available both cloud-based and on premises. Furthermore, with the BIC Platform you decide to introduce an easy-to-use and efficient BPM in your company, which requires no installation and is thus ready-to-use. Think out-of-the-box by designing your end-to-end process models regarding your individual business rules. Start today and test our free trial version!
Why the BIC BPM Suite is the best BPM tool on the market
The multitude of BPM vendors and corresponding BPM softwares can make it difficult to find a suitable software solution for your own company. To find the right Management software for you and your business, an intensive comparison of the providers is advisable. With the BIC Platform, you choose a Business Process Management software that is tailored to the different needs of your company. But what exactly distinguishes the BIC Platform from other BPM tools on the market? We have made the comparison!
| | BIC Platform | Other tools |
| --- | --- | --- |
| Ease of use | | |
| Web-based use | | |
| Customer support | | |
| Mobile usage | | |
| Multilingual | | |
| Process modeling | | |
| Standard modeling notations | | |
| Process archive and change history | | |
| Process portal | | |
| Collaboration opportunities | | |
| Task- and document management | | |
| Risk management | | |
| Process execution based on no code | | |
| | BIC Platform | Other tools |
| --- | --- | --- |
| RPA Integration | | |
| Automated Process Discovery | | |
| Real-time measurement of processes | | |
| Predictive monitoring | | |
| Administration & Configuration | | |
| Reporting and manuals | | |
| Price flexibility | | |
| Easy usability | | |
| Deployment | | |
| Dashboards & Heatmaps | | |
| Audit-trail | | |
| Trainings and Services | | |
| Flexible expansion of the product range | | |
All BPM modules of BIC Platform at a glance
With its three BPM modules, GBTEC offers a holistic suite covering all steps of customer's process optimization journey. From process design to process automation and process mining, customers streamline their operational workflows from start to finish within one software suite.
Do you have any questions?
Do you have any questions about our products or services?
Our experts will gladly assist you and look forward to your request.