Citizen Developer: Game-Changer in IT
Many companies still run their processes manually today, wasting time and money in the process. However, their IT departments can hardly keep up with the numerous application requests for automated processes due to the shortage of skilled workers. This is where so-called Citizen Developers come into play: With the help of supporting tools, they create digital workflows in the shortest possible time and without in-depth programming knowledge, thus driving forward the digital transformation in companies.
What are Citizen Developers?
Citizen developers are technically skilled employees who create software-based applications for their respective departments outside the IT department. Unlike a professional developer, Citizen Developers have little or no IT and programming knowledge. They therefore rely on supporting no-code and low-code tools. These enable them to create applications via easy-to-use graphical interfaces. As business users, Citizen Developers know the processes in their departments better than anyone else and are therefore ideally suited to independently develop solutions and applications for the daily business processes in their company. Employees thus become problem solvers for stalled automation and digitalization projects. After all, many companies today often lack the IT resources needed to implement digitalization projects and free themselves from tedious process editing. With Citizen Development, organizations accelerate their digital progress, save valuable time and money, and also relieve the burden on their IT department.
No-code and low-code - that's the difference
No-code and low-code automation can be used to significantly accelerate automation and digitalization projects as well as to counteract the shortage of IT professionals. But what is behind these terms and how do the technologies differ from each other?
No-code platforms are aimed specifically at business users and usually have a simple visual user interface. This means that even technically less experienced users can create their own applications and processes - often using drag-and-drop functionality - without writing a single line of code. The more clearly the user interface is designed, the better and faster business users will find their way around. As a simple tool, this technology is perfect for creating multiple workflows in a short period of time.
Low-code platforms go beyond the pure no-code approach and are intended for more complex applications that require manual input and - at least minor - IT skills. Scripting functions allow individual workflow solutions for demanding digitalization projects to be quickly put into practice. A combination of visual interfaces and coding sections nevertheless provides developers with good guidance and keeps the programming effort down. Depending on the functionalities of a software, it can also be assigned to both categories (no-code and low-code automation).
Video: Citizen Developer - the solution for skills shortages in IT
The lack of IT skills has been leading to high financial losses for companies worldwide in recent years. According to leading market research firm Gartner, this skills shortage is also the biggest barrier to implementing new technologies. Citizen Developers can counteract this and help companies move their IT projects forward. However, this does not mean that fewer software developers will be needed in the future. Rather, IT departments can devote themselves to complex technical issues instead of dealing with monotonous tasks. Without low-code and no-code development, IT departments would probably soon no longer be able to support the needs of the business departments. In the video, our automation expert from Product Management summarizes the concept of Citizen Development and answers frequently asked questions on this topic.
The advantages of Citizen Development
When it comes to software development, it's difficult for many companies to keep up with today's rapid changes. Citizen Developers are using no-code and low-code to revolutionize the way applications are created without the need to hire additional professional software developers. There are many benefits that come with this approach:
Relieving the IT department
Increasing demands are putting IT departments under increasing pressure. Citizen developers take on simple software developments, allowing development professionals to concentrate more on complex IT matters.
Increased productivity
Developments of applications with no-code and low-code are significantly faster than custom developments. Required changes can also be implemented quickly and easily.
Effective governance
No-code and low-code platforms provide a standardized approach to process modeling and automation, run in a secure, approved environment, and are an effective way to avoid shadow IT.
Flexible customizations
With Citizen Development, departments are no longer dependent on the help of the IT department, but develop software solutions independently and thus have the opportunity to act much more flexibly.
Higher employee motivation
Engaging yourself and creating digital tools according to your own needs, rather than waiting for IT, not only accelerates digital transformation, but also increases employee work motivation.
Expert view on applications
Citizen developers originate directly from the relevant specialist department and have the necessary industry knowledge. Consequently, they know the requirements of the software to be developed as well as workflows best.
Citizen developers drive digital transformation
Citizen Development is an optimal solution for companies that suffer from a shortage of skilled workers and for this reason can only move their IT projects forward slowly. No-code and low-code tools create a link between business departments and IT and enable business users to operate independently of the capacities of professional programmers in the IT department - no matter what stage of digital transformation a company is at. As limited IT resources and increasing digitalization requirements in specialist departments persist in the near future and call for a long-term solution, low-code and no-code platforms are gaining in importance and their benefits are being appreciated more and more. This is because a lack of programming skills is no longer an obstacle to automating processes. With the help of the platforms, Citizen Developers accelerate the development of applications and internal processes enormously, which not only has a positive impact on the company's success, but also ensures higher employee satisfaction. According to Gartner, 80 percent of tech products and services will be developed by people who are not IT experts by 2024. Citizen Development is therefore more than just a trendy term: thanks to their technical understanding, existing expert knowledge and creativity, Citizen Developers enable a noticeable and sustainable increase in organizational efficiency and productivity in the company. This is a huge potential that has hardly been exploited in many organizations to date.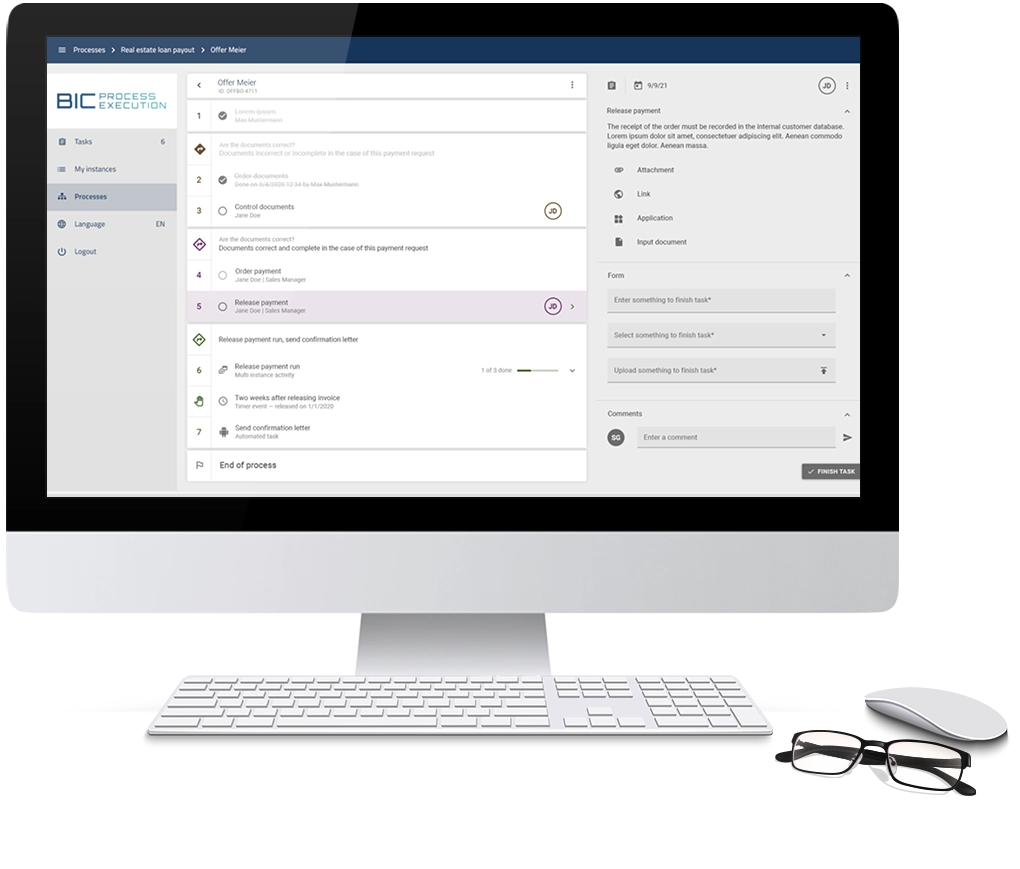 Are you looking for the right automation tool? Then you don't want to miss BIC Process Execution!
BIC Process Execution covers all requirements for digital workflows, automated workflows, transparency, collaboration and efficient business processes. Convenient editors in a modular system enable departments to configure custom-fit forms, e-mail templates, or decision tables as part of a process to be executed - wihtout IT support. You can master various checking and approval steps with complex document guidance with the help of automated work sequences and thus create transparency for all process participants. The integration of RPA and the connection to third-party systems is also possible through simple configuration. At the same time, the tool impresses with its modernity, intuitive handling and technical excellence. Get even more out of your processes with our first-class no-code technology and transform your business workflows directly into executable processes without any programming effort.
Download: Whitepaper Citizen Developer
Download our informative whitepaper and dive even deeper into the world of Citizen Developer. Find out how useful Citizen Development is in practice and what benefits it offers companies in an exclusive customer example. In the paper, we also go into detail about the concept and long-term benefits of Citizen Developers, highlight the challenges and benefits of Citizen Development, and clarify three frequently asked questions from companies on this topic.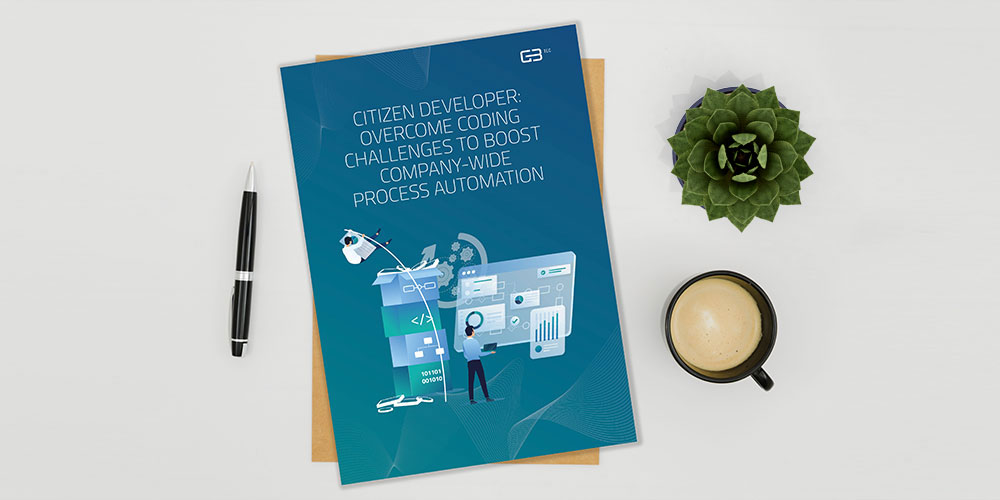 We have the information you need to unleash your full automation potential. Take a look at our resources and start improving your business performance today.
Do you have any questions?
Do you have any questions about our products or services?
Our experts will gladly assist you and look forward to your request.