From Zero to Hero
BIC Process Execution:
Citizen Developer Edition
Enable your business departments to automate process flows extensively with the Citizen Developer Edition, even without programming skills. On a no-code basis, business teams configure their own complex workflows in the modular system at high speed - modular, agile and without a single line of code.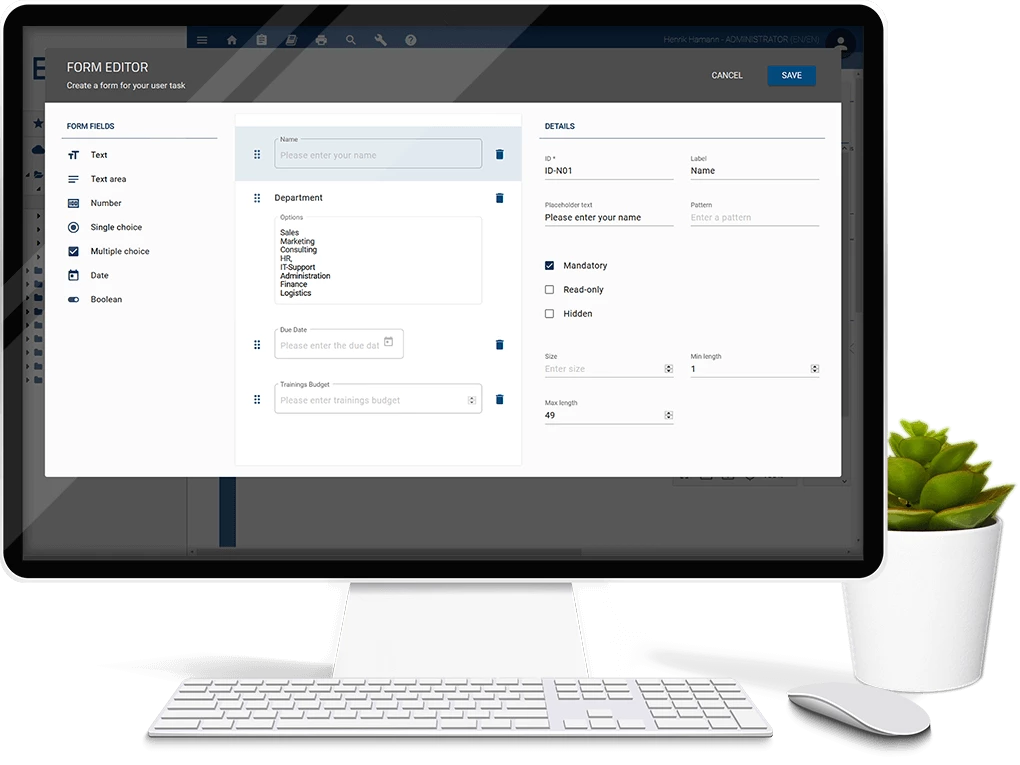 The fastest way to digital processes
The Citizen Developer Edition is based on the One-Click Edition and extends the functionality with additional automation options. With the Citizen Developer Edition, you can automate complex workflows on a no-code basis and thus drive digitalization in your company through the people who are responsible for designing and executing the processes - your business departments. Without in-depth IT or programming knowledge, business teams can digitally map your processes, integrate third-party systems and create their own applications. If IT resources are scarce, the Citizen Developer Edition is your solution for a rapid transformation to digitalization.
Convenient editors allow business departments (the Citizen Developers) to configure custom-fit forms, email templates or decision tables as part of the process to be executed without IT support. They can start processes on a scheduled basis, send emails automatically, and generate reports at the touch of a button. The integration of third-party systems is also possible through simple configuration, ensuring consistency within process execution from start to finish. By incorporating Robotic Process Automation (RPA), you can also accelerate your processes and let IT robots handle repetitive tasks with consistently high quality. In this way, you free your employees from time-consuming workflows and provide time for more value-adding activities.
The most important advantages of the Citizen Developer Edition at a glance
In addition to the benefits of the One-Click Edition, the Citizen Developer Edition offers several other unique features that make your everyday work much easier.
Typical use cases for the Citizen Developer Edition
Automate complex process flows with the Citizen Developer Edition and benefit from resource-efficient processes that make a difference.
Case monitoring
and audit management
Convince your auditor with processes that are executed the way you specified them. Thanks to integrated case monitoring, all business transactions of a process can be viewed transparently and are stored in form of an audit trail. Clear dashboards with all important key figures provide information about the performance of your process and quality management and let you shine in front of your auditor.
Release steps with
complex document controls
Create, edit, review, release: The steps from drafting to publishing certain documents can be very complex and involve different parties. Master the various review and approval steps using automated workflows and create transparency for all parties involved. This makes document management fast, easy and error-free.
Integration of different
applications along the process
You want to integrate third-party systems such as SAP®, Microsoft Office®, Salesforce® or UiPath® to link your processes with your IT ecosystem? With our out-of-the-box integration solutions, we seamlessly interface your IT systems and operational processes. With applications like RPA, you can also easily automate tasks like filling Excel lists.
Automated end-to-end workflows
designed to boost your processes
Generate digital end-to-end workflows without any programming and boost your operational efficiency. Discover the full potential of optimized business processes and achieve significant progress for the digital transformation in your company.
Do you have any questions?
Do you have any questions about our products or services?
Our experts will gladly assist you and look forward to your request.