Groundbreaking, cost-effective, simple
BIC Process Execution:
One-Click-Edition
Automated processes at the push of a button? With the One-Click-Edition of BIC Process Execution you can do just that! Boost your process performance to a new level and benefit from faster processes, easier control of your workflows and maximum process fidelity.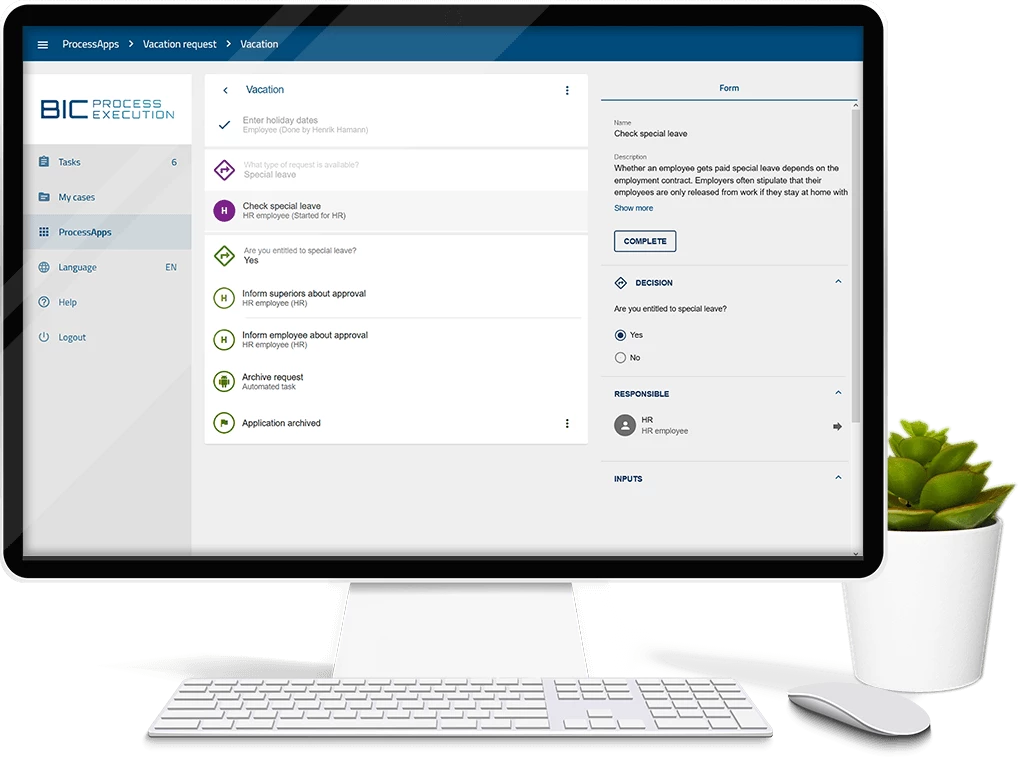 Process automation made easy
Automation meets simplicity: The One-Click-Edition turns the desire to automate processes in the shortest possible time into reality. The edition enables users to transform modeled processes directly into executable workflows and thus offers companies the best possible entry into process automation. As the name suggests, a single click is all it takes to operationalize a documented process and use it for daily work - it does not need to be elaborately prepared or enriched with technical details. While comparable automations in the past often led to time-consuming and cost-intensive projects, this unique and exclusive feature of the One-Click-Edition ensures fast process automation without much effort. Within seconds, the transferred processes are also available as an application on mobile devices. Digitalization has never been easier, more cost-effective or faster.
The most important advantages of the One-Click-Edition at a glance
Use the multiple functions of the One-Click-Edition to your advantage and drive the digitalization forward in your company.
Typical use cases for the One-Click-Edition
Any process, no matter how complex, can be automated using the One-Click-Edition. This allows you to accelerate numerous workflows in your company on a daily basis and measurably increase your business performance.
Electronic checklists
and work plans
Work instructions and checklists are often still in paper form, filled out by hand and physically filed: This does not have to be the case and is much more efficient with BIC Process Execution! Simplify your daily business with digital work instructions and electronic checklists that your employees can view and edit directly in the system at any time. Thanks to the integrated audit trail, ongoing and historical processes are always transparent for you.
Governance and
approval workflows
In companies, dozens of checks are performed and several approvals are issued every day. Usually, quite a few people are involved in the review and approval process. Everyone of them has to be informed via e-mail and the proof of approval must be saved and archived. As a result, companies waste valuable time every day! With the One-Click-Edition of BIC Process Execution you can automate such governance and approval processes. Those responsible for review and approval are automatically informed by the system, where they can issue their approval, which is then stored in an audit-proof manner.
Preparation of extensive automation projects
The digital mapping of business processes serves as the basis for optimizing the economic efficiency and increasing the performance of a company. This is because automated processes are reliable, error-free, secure and available at all times - and thus the foundation for all further automation projects. With BIC Process Execution, you can test different process variants in practice and thus exploit the greatest optimization and automation potential.
Automated end-to-end workflows
designed to boost your processes
Generate digital end-to-end workflows without any programming and boost your operational efficiency. Discover the full potential of optimized business processes and achieve significant progress for the digital transformation in your company.
Do you have any questions?
Do you have any questions about our products or services?
Our experts will gladly assist you and look forward to your request.