Complex process automation, individual and simple
BIC Process Execution:
Professional-Edition
The Professional-Edition makes complex digitalization projects as cost-effective as possible. On a low-code basis and with minimal IT and programming knowledge, you can quickly design digital applications that are perfectly tailored to your business.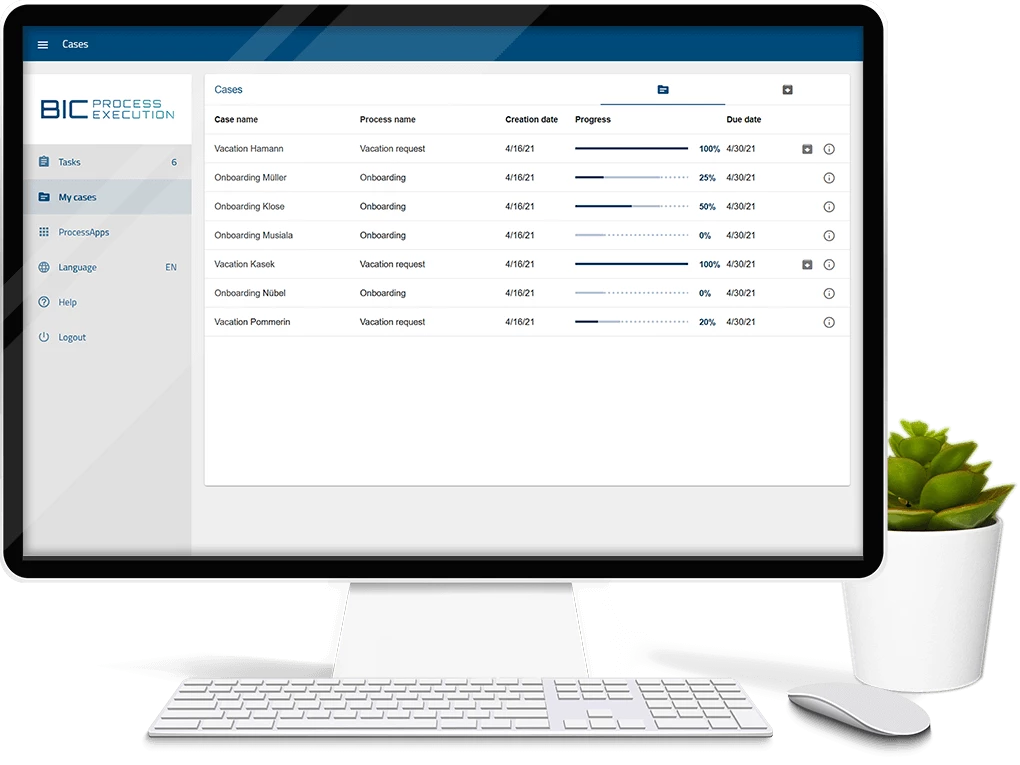 With low-code to first-class process automation
The Professional-Edition is based on the editions "One-Click" and "Citizen Developer" and extends the set of functions with more complex automation modules. Even minor programming skills are sufficient to implement individual workflow solutions for sophisticated digitalization projects and to configure applications that map both the process workflow and transactional elements. With Digital Process Automation (DPA), digital transformation processes can be controlled quickly and intuitively - on a low-code basis. This reduces programming effort to a minimum and enables you to turn work results into action even faster. You also benefit from comprehensive data and document management as well as predefined reports and graphics. The Professional-Edition provides you with an environment that allows you to create your own custom services. You can implement these as an individual digitalization project and make them available to the user as a process app.
The most important advantages of the Professional-Edition at a glance
In addition to the benefits of the One-Click and Citizen-Developer editions, the Professional-Edition offers several other unique features that will revolutionize your everyday work.
Automated end-to-end workflows
designed to boost your processes
Generate digital end-to-end workflows without any programming and boost your operational efficiency. Discover the full potential of optimized business processes and achieve significant progress for the digital transformation in your company.
Do you have any questions?
Do you have any questions about our products or services?
Our experts will gladly assist you and look forward to your request.