Manage your business risks safely and efficiently
With a GRC software, you can intelligently combine the areas of governance, risk, and compliance to optimally protect your company from potential risks. Rely on automated, digital risk management and create more security for your company. Instead of being tied down with responsibility, BIC GRC Solutions help you easily meet the expectations of your Governance, Risk, and Compliance Management.
Companies from all over the world trust us
Game-changing GRC software for responsible risk management
Save yourself the consolidation of endless Excel sheets and avoid email and filing chaos. It's easier with a digital, automated GRC tool.
The management of risks is one of the central challenges for successful corporate management. In order to make this possible, the development of a comprehensive strategy for the areas of governance, risk, and compliance, or GRC for short, is the indispensable prerequisite, as this is the only way to set up important cornerstones for identifying, assessing and avoiding risks. In practice, however, the three areas are often isolated from one another. A lack of transparency and redundancies means that corporate risks cannot be effectively managed. With BIC GRC Solutions, you can digitize the tasks of risk management and bring together the most important systems from the areas of governance, risk, and compliance in one software package. Manage business risks and controls professionally with a central, workflow-based GRC software.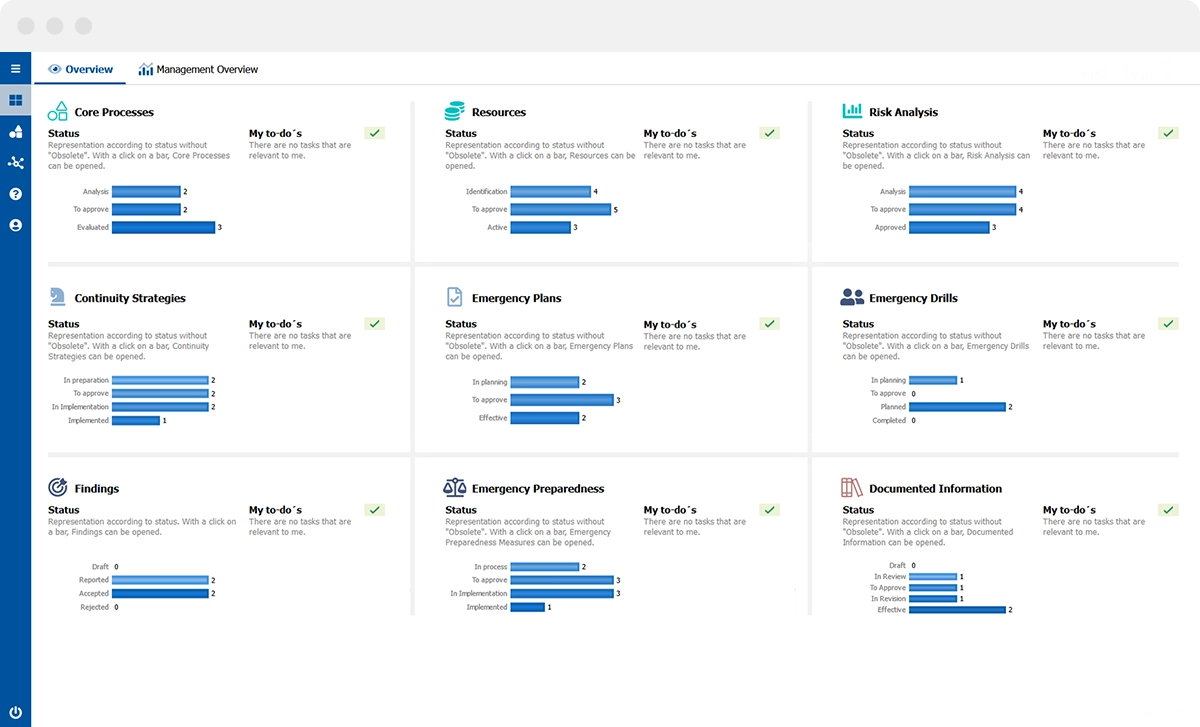 Easy compliance with internal regulations and legal requirements
Increasing cyber attacks and data misuse have led to a rapid increase in business risks in recent years. As a result, the list of legal requirements is becoming longer and longer. These must be implemented in addition to corporate governance requirements and quality standards. With the software, you can easily execute your business processes using automated workflows and ensure compliance with regulations.
Digital forms for recording risks and controls allow you to digitize and centralize your GRC management. Clearly defined responsibilities and workflow-supported processes ensure greater transparency and a lower error rate. With the help of the software, you will be able to establish a company-wide risk management and internal control system.
Less work thanks to automated GRC processes
The BIC GRC Solutions offer you a wide range of automated workflows. These include risk identification and assessment, control detection, and tests of design for risks and controls. Standard workflows are also available for tests of effectiveness of controls, risk event detection, control execution and action management.
Automatic notifications and reminder emails help you to ensure that your governance, risk, and compliance processes are properly executed. Your advantage: Information is made available transparently and across departments, promoting collaboration and avoiding redundancies. This not only saves time, but above all saves your budget.


Best equipped for external and internal audits
External or internal audits require transparent and comprehensible reporting on corporate risks and the controls or measures applied to them. BIC GRC Solutions provide the necessary overview of all risk management activities. The integrated audit trail in BIC enables audit-proof storage of changes as well as a comprehensive change history.
The stored workflows provide an optimal insight into the firmly defined processes of your risk management. Thanks to the practical task management, you can view the processing status of your GRC processes, including all open and completed tasks, at any time in the software. In this way, your company is well prepared for the next audit.
Holistic surveillance of your risks and controls thanks to powerful monitoring
The GRC tool allows you to comprehensively measure and monitor your risks and controls. To do this, the tool provides you with distinct reporting and monitoring functions. With just one click you can generate automatic reports.
In the BIC dashboard, you can see the current risk situation of your company at a glance. Immediate dangers can be quickly identified and well-founded decisions can be made to minimize risks. For a detailed analysis, the comprehensive risk overview provides you with all hazards, classified by risk category, risk context and responsibilities. In this way, you ensure transparency and rapid implementation of new standards in your company.

Discover the advantages of BIC GRC Solutions
With BIC GRC Solutions, you establish an effective, cross-departmental management of your risks, controls and compliance requirements and at the same time open up enormous synergy effects for your company.
Which risk management software is right for me?
Whether you prefer a custom design or pre-built solution, GBTEC offers the right software for your needs.
See for yourself and discover our BIC GRC Solutions for professional risk management.
BIC Custom GRC offers customizable, flexible custom solutions that can be tailored to the client's unique processes.
BIC Enterprise Risk is our intuitive, fast-to-implement standardized solution that fulfills leading standards.
On the safe side thanks
to BIC GRC Solutions
Permanent adherence to the complex rules and regulations represents a major challenge for risk and compliance management. With a digital GRC software, your company is well prepared for potential risks. Thanks to the integrative GRC concept, full governance, risk and compliance management is possible.
Comply with the principles of corporate governance: By using a GRC tool you can strengthen your corporate governance and comply with the given framework.
Avoid crisis situations: With effective risk management, you can identify, assess and correctly manage potential corporate risks in good time.
Act in accordance with the law: With the help of compliance software, you can record legal regulations and internal rules in a central system and ensure that they are complied with.
The areas of governance, risk, and compliance form the foundation for successful corporate management. However, increasing requirements in the form of more stringent legal regulations, more intense competition and turbulent economic and financial markets make it more difficult to meet your corporate goals and demand professional GRC management.
The BIC GRC Solutions support you in the recording and evaluation of risks, in the implementation of controls and in the management of measures. By means of predefined workflows, processes are controlled automatically and compliant. The danger of manual errors is reduced and the throughput speed is significantly higher. This increases effectiveness and saves time and costs to a considerable extent. The uniform and transparent documentation also provides all relevant information for the audit. In this way, you will succeed in effective management and secure implementation of your governance, risk and compliance requirements.
Value-based governance, risk and compliance management for your company's success
A professional GRC strategy builds the foundation for successful business management. BIC supports you with a unique combination of the latest technology, an intuitive user interface and fast implementation. That makes working with the BIC GRC Solutions so easy - in all GRC areas.
Do you have any questions?
Do you have any questions about our products or services?
Our experts will gladly assist you and look forward to your request.