Rolls-Royce Power Systems replaces overly complex QM system with integrated management system

Rolls-Royce's Power Systems has built a simplified management system using the BIC Platform. The provider of propulsion and power solutions coordinates its sites worldwide in the intuitive BPM software and ensures compliance. Thanks to the outstanding user-friendliness and involvement of the workforce in the creation of process content, both management and business departments were quickly won over by the new system.
Process standardization optimizes the control of global company processes
"The look and feel of the new BIC Platform is very well received by our colleagues. This has broken the first barrier for them to live the contents of our Integrated Management System (IMS). With the support we receive from the BIC Platform and GBTEC, we have been able to set up the IMS with its organization-independent structure in a targeted manner and can efficiently integrate new locations and topics thanks to standardized processes. This makes it easier, for example, to embed compliance requirements in the respective processes. This adds enormous value to our company beyond ISO certification."
Ulrich Gotterbarm
Senior Expert Business Process Management
Rolls-Royce Power Systems
Rolls-Royce Power Systems AG
Headquarters: Friedrichshafen, Germany
Employees: 9,000
Sector: Manufacturing
BIC Platform modules in use:
BIC Process Design
BIC GRC
With BIC Platform, Rolls-Royce Power Systems replaced a quality management system that had become too complex with a new, powerful Integrated Management System (IMS). The previously divergent process architectures of the individual sites were replaced by a harmonized and standardized process landscape that enables centralized control of processes across all sites.
Development of an organization-independent IMS with a central process landscape
Recording and documentation of the most important processes according to defined and delimited value chains
Integration of compliance topics into the relevant processes instead of an isolated consideration
Operationalization and automation of key compliance tasks with BIC GRC
Convincing business users of an integrated management system
The quality management system at Rolls-Royce Power Systems has grown in complexity from year to year, partly due to corporate growth, but also because of new compliance requirements at its various sites around the world. To simplify and improve its quality management system, the propulsion and power solutions provider decided to make a technology change. Technical modeling in ViFlow was replaced by business modeling in BIC Platform. In a joint project with GBTEC, existing process models from the quality management system were automatically transferred to the BPM suite within three months. However, it quickly became apparent that this only solved part of the problem, as the complex legacy processes remained in place. Both management and business users continued to face the challenge of getting their value from the quality management system. This led to a radical rethink and resulted in the company finally initiating the "Go4 50/50" project in 2018. This set the following goals for the new process architecture:
Entirely restart all customer-oriented processes with the help of management and business users
Reduce and simplify processes, standardize them if possible, and integrate them into a common, scalable process landscape
Introduce a central, integrated management system (IMS) for all sites worldwide
Integrated and user-friendly management system with BIC Platform
As Rolls-Royce Power Systems is a global company in a constant state of change, the new management system needed to be highly scalable and able to grow with the company. To enable a complete fresh start, the company again went in search of software that would both enable intuitive modeling and provide all the features of a comprehensive IMS. In order to facilitate the work of the employees, the benchmarking focused especially on user-friendliness for users and modelers. GBTEC perfects precisely these requirements in its cloud-based BPM suite, BIC Platform. The software's functionality and GBTEC's services to date convinced those responsible, so they decided to replace the existing management system and roll out BIC Platform globally. The simple tool handling and the resulting quick orientation for the users were two of the main reasons for the decision in favor of BIC Platform.
With clear delineations through self-defined end-to-end sections, the structure of the IMS was completely rebuilt in BIC Process Design, the process modeling module in BIC Platform. Efficient corporate management, which in future will be able to manage all locations worldwide, was a particular focus. In order to integrate all users into the internal project and to increase the understanding of the system, the contents of the individual business processes were created in a predefined framework together with employees and subject matter experts.
Efficient corporate management and compliance security
With BIC Platform, Rolls-Royce Power Systems has built a completely new, organization-independent management system that allows the company to be controlled in a process-oriented manner. The high scalability of the methodology and software offers a major advantage: The company is undergoing a transformation process, from component supplier to provider of integrated, sustainable solutions. Today, in addition to classic combustion engines, it also offers technologies such as energy storage solutions and is involved with hydrogen-based technologies. The management system makes it possible to coordinate these different solutions, which are produced and sold at the individual sites, via a common process. The content of the individual management systems of the global subsidiaries will be integrated into the BIC Platform in several stages and standardized process landscapes will be established. Online training, which provides users with all the information they need on the structure and methodology of the management system and the tool, as well as an intuitive graphical user interface, ensure a high level of acceptance of the tool among employees. In addition to process modeling, Rolls-Royce Power Systems uses BIC GRC to operationalize important compliance topics such as the internal control system (ICS). Other compliance topics such as export control or product safety are currently being implemented. The goal is to anchor risks and controls in individual processes throughout the company, but also depending on the location, and to support compliance functions with the help of the automatic workflows in BIC GRC. Employees can view responsibilities at a glance, effectively coordinate requirements with each other and organize their tasks in line with GRC management.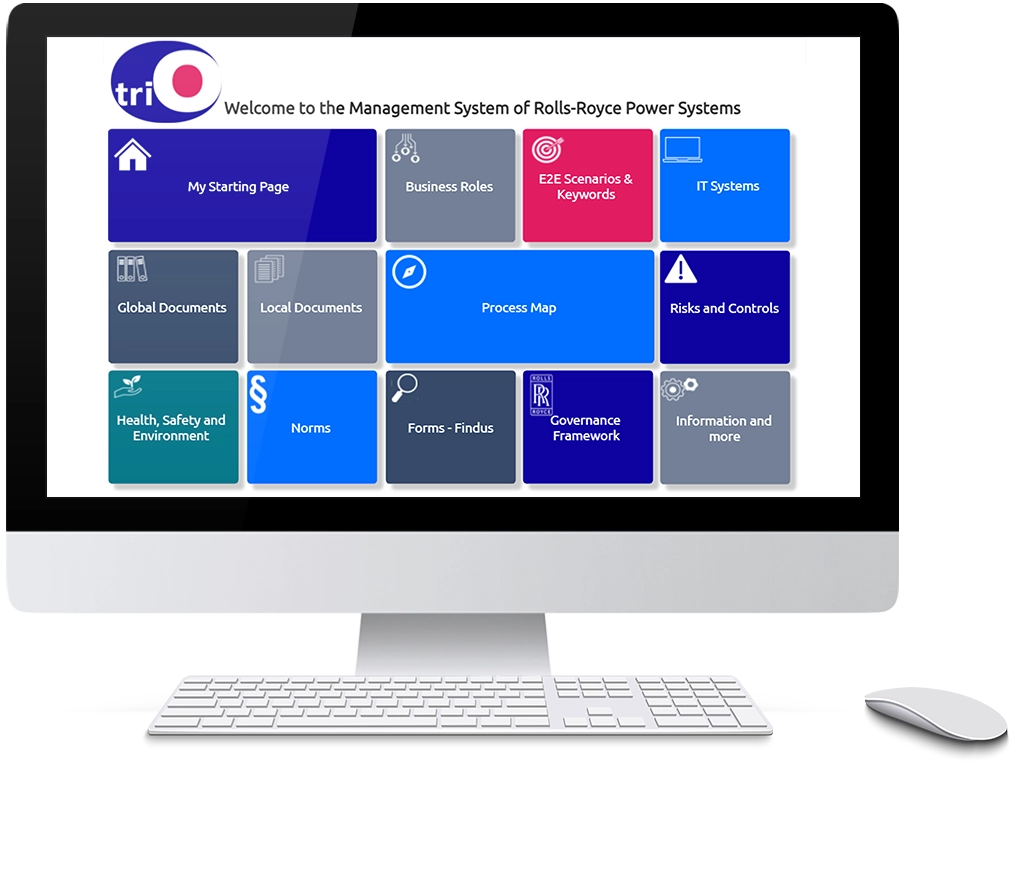 Process-oriented compliance management makes the difference
"Compliance security and usability for our employees were very important to us. BIC Platform meets our requirements perfectly - and the employees are more than satisfied. Especially with the modeling of risks and controls and with the help of the functions of the Governance, Risk and Compliance module BIC GRC, we simplify our compliance tasks considerably. In our previous approach, we maintained a large number of separately managed documents with hundreds of pages, but the reference to the processes affected by them was missing. Now we describe tasks and information in a structured way and make them visible where they have an impact. With BIC GRC, we even automate some of these mission-critical processes, freeing up valuable resources."
Dirk Grollmuss
Expert Business Process Management
Rolls-Royce Power Systems
About Rolls-Royce Power Systems
Rolls-Royce's Power Systems business, with its mtu brand, is a product and solution provider for world-class propulsion and energy solutions and comprehensive support throughout the entire lifecycle. The company is leveraging digitalization and electrification to develop powertrain and power generation solutions that are even cleaner and smarter, responding to the societal challenges posed by the rapidly growing demand for energy and mobility. The Power Systems business unit is headquartered in Friedrichshafen.
Questions about
our references?
We look forward to your request and would be happy to help you.
Your personal contact person is:

Benedikt Siebrecht
sales@gbtec.com
+49 234 97645 -110